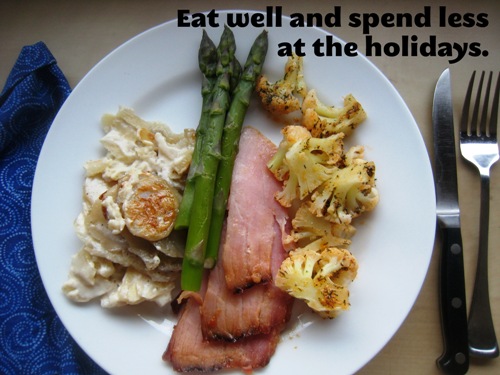 Holiday feasts can get pretty pricey if you're not careful. But the winter holidays are the exact time when you want to feast! How do we find balance?
Let me count the ways…. This month the Eat Well Spend Less girls are dishing out money-saving ideas for special holiday foods. Their tips and tricks will keep you in style — and under budget.
35 Easy, Overnight Breakfasts – Mandi did her homework — and ours — by rounding up a wealth of breakfast choices that can be made the night before. This means you can sleep in (maybe?) and not worry about what to serve your family and guests at breakfast or brunch.
Freezer Cooking for the Holidays – Since you know that the freezer is one of my very best friends, I shared ways that you can get buddy-buddy with your deep freeze as well this season. From Christmas cookies to easy meals to all the trimmings, I've got you covered.
Finding Time for Special Holiday Food – Katie is the queen of real food. She makes a lot of food from scratch in order to economize as well as feed her family well. Here she offers special tips for saving time in the kitchen when you already feel like you live there.
Dump the Box: Make Your Own Pie Crust – Thinking outside of the box(ed convenience foods), Amy shares a tutorial on making your own pie crust. It's so easy; a child could do it!
Mini Tourtiere Hand Pies – Speaking of pie, Danny, the husband of Simple Bites, shares his take on freezer cooking. I love his manly approach to it and how he makes it suit his lifestyle as well as his family's.
Edible Homemade Gifts – Shaina gives you the full rundown of gifts from the kitchen to help you save money and still be gifty. She includes links to a multitude of recipes, so you are sure to find something for everyone on your list.
Today's Frugal Friday!
Time to swap ideas and inspiration for saving money and getting good values.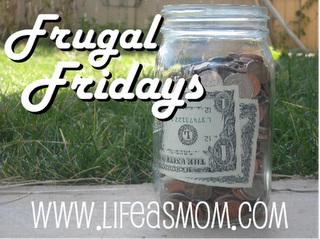 How do YOU save money?
Please remember to follow the Frugal Friday Guidelines or be deleted.
Post a money saving idea and explain how it is helpful in your post.
No giveaways or deals posts.
Recipes are allowed, but you must explain how it saves people money.
Please include a link back to Life as MOM.