Eat Well & Spend Less for Thanksgiving
We are a participant in the Amazon Services LLC Associates Program, an affiliate advertising program designed to provide a means for us to earn fees by linking to Amazon.com and affiliated sites. We participate in other affiliate programs as well. For more details, please see our disclosure policy.
A few months ago I joined forces with a great group of bloggers who could relate with my struggles to eat well and spend less. We commiserated over the rising price of groceries and decided to do something about it: develop and share strategies for keeping quality high while maintaining lower grocery budgets. I've been so blessed by what I've learned from Aimee, Alyssa, Carrie, Katie, Katie, Mandi, Shaina, and Tammy.

This week the Eat Well, Spend Less girls are talking turkey — and all things Thanksgiving. I highly encourage you to check out their posts!
One Turkey, Four Meals – Aimee shared the fabulous concept of buying turkey in bulk (ie the whole bird) and serving it in a multitude of ways, stretching that poultry purchase into four meals.
Family, Food, or Fighting – Katie Kimball explores what happens when food philosophies collide at the holidays. She offers some positive solutions for a peaceable holiday gathering with family of differing opinions.
Tips for a Budget Friendly Thanksgiving Dinner – The other day I discussed what the options are when the pocketbook is slim. It's all fine and good "to splurge" at the holidays, provided you have the cash to do it. No turkey dinner is worth going into debt. Really.
Tips for Thanksgiving Leftovers – Waste not, want not, I always say. I love Katie's tips for using up everything you got as well as reducing waste overall.
Allergen-Free Thanksgiving Recipes – Mandi put together a great collection of "traditional" recipes that are also allergen-free. What a time saver when folks on your guest list can't eat what you would normally make.
Frugal Holiday Desserts – Desserts are often one of the most expensive pieces of the holiday meal, but it doesn't have to be. Shaina shows you how to make dessert frugal and full of good food.
10 Recipes to Make the Most of Turkey Leftovers – Kingdom First Mom offers a great collection of recipes to stretch that bird for future meals. The turkey lasagna roll-ups look really fun.
Tips for a Homemade Make-ahead Thanksgiving Dinner – Girl after my own heart, Tammy shares tips for making your holiday feast ahead of time.
Setting an Elegant Table on the Cheap – Carrie posted some great tips for setting a pretty table without going broke to do it.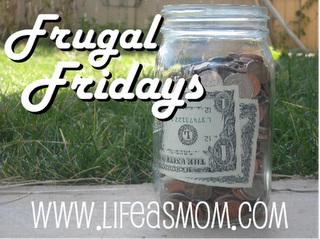 Frugal Friday is an opportunity to share ways that we can save money. I reserve the right to delete any links that aren't pertinent to the discussion.
Share your frugal idea below: