Whether you're preparing part or all of a holiday meal, baking bulk batches of cookies, or simply putting up some easy dinners, freezer cooking can be your best friend at the holidays.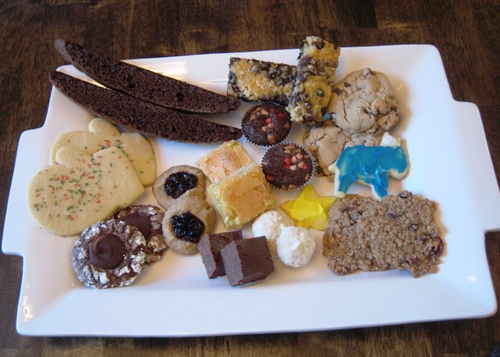 As the days and months go by, I fall more in love with my freezer. That is to say, when I put it to good use. When I use it to store a hodge podge of leftovers and half-empty cartons of ice cream, it doesn't do much for me.
But, when I fill it with pre-assembled meals, meal kits, meal components, and baked goods? Well, it's my very best friend.
At the start of November I did a full-blown freezer cooking plan that filled my freezer to the brim. To the brim! I've been reaping the benefits of that for weeks and will continue to do so far into December as we still have enough meals to last us for most of the month!
I was stunned when I wrote out the month's menus and saw that I don't need to buy much in the way of dinnertime groceries. What a huge time and budget saver that Busy Holiday Nights cooking plan was.
It's now freed me up to do some fun cooking. Coming up in the next week or two, hubby and I are going to do a big tamale making session, our yearly tradition. The kids and I are going to spend a day topping off the freezer with Christmas cookies, scones, cinnamon rolls, and baking mixes. We will be set with make-ahead meals and treats to take through to the New Year.
Indeed, the freezer is my very best friend this busy holiday season.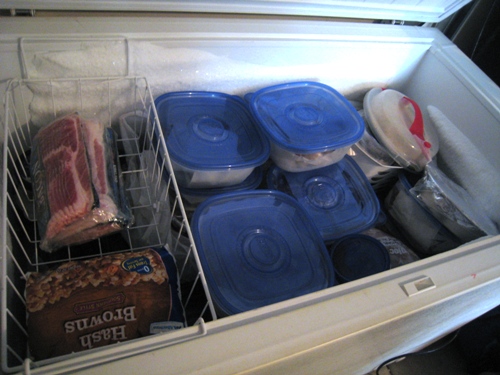 Freezer cooking to the rescue!
I decided that this, my 41st Christmas, is cause for a more laid back season. My baby is four; my eldest is on the brink of driving. I know these days won't last forever. And someday I'll miss them — these days as well as my grown kids.
I want to rest this season. To do that, I'll need to do a little scheming. I find that if I do a little bit of planning and working at the outset, I can have that laid back feeling later. Without feeling guilty.
Here's how you can use your freezer to make your holidays more enjoyable and allow you to eat well and spend less: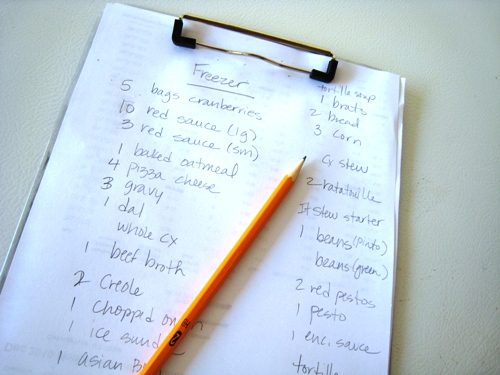 1. Take inventory.
What lurks in that freezer of yours? This past weekend I took a full inventory so that I knew what we had. Apparently, I stocked up on a pork loin sale as we have plenty of that! My kids will be thrilled to have this for lunch one day this week.
By taking an inventory of what you have, you can figure out what doesn't move very fast and avoid buying more of that. You can also build your menus around what you already have so that you don't go buying more food than you need. You'll save money on both counts.
I made a freezer inventory list like this one. This month I'm determined to check things off after I use them so that I don't have to dig everything out again in a month's time.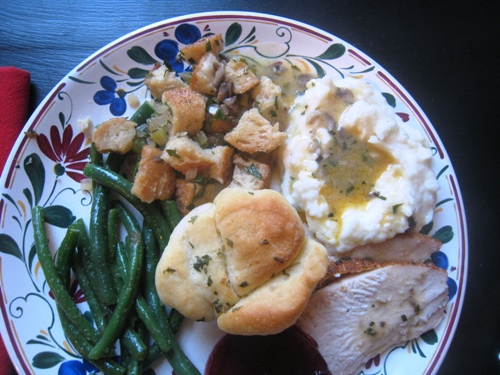 2. Determine your needs.
What kind of meals and celebrations will you hold this holiday season? Are there special meals that you typically make in December that you could make ahead and freeze, in part or in its entirety?
Mashed potatoes, gravy, turkey, soups, rolls, sauces, desserts, and a number of side dishes will all freeze well. If you're not sure if it will freeze well, tell us in the comments; we'll help you out.
Do you have lots of evenings when you'll get home late and need easy dinners? Do you like to have a variety of Christmas cookies on hand? Do you plan to host a big brunch this month?
All of these answers will help you think through what kind of cooking you'll need to do this month and better plan out what you can cook and freeze. If you know that you've already taken care of dinner or the cookies you're supposed to bring to the holiday party at work, you'll be less likely to buy pricier convenience options.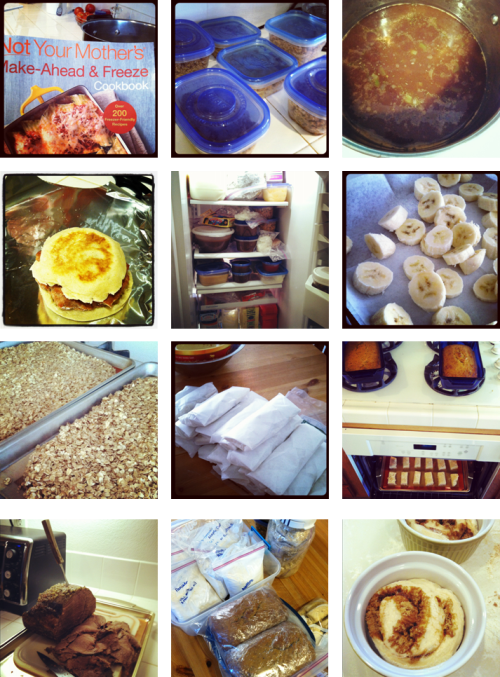 3. Get cooking.
Once you decide what you need to cook this month, create a plan to cook and freeze. You can do this in a number of ways:
There are a number of cooking plans in my cookbook as well as this freebie download. While the freebie is mostly casseroles, be assured that the cookbook most definitely is NOT. (Psst… the Kindle version is only $4.99 right now.)
You can also join us for Freezer Cooking Days. On the first Friday of every month I share my freezer cooking escapades and readers have the chance to do the same. This month, on December 7, I'll be sharing a free downloadable holiday baking plan that will cover all the goodies from Sugar Cookies and Gingerbread Crinkles to Pretzel Berry Cheesecake and Whole Grain Cinnamon Rolls.
Cooking ahead will save you money and time because all your actions (planning, shopping, and cooking) are multi-purpose. You stay out of the stores, shop more efficiently, and spend less.
4. Relax.
Once you've made some meals, make an inventory list and check it twice. You'll enjoy time off kitchen patrol in the coming weeks. You'll enjoy the holidays so much more. And you'll save some money while you're at it.
What's more relaxing than that?
Eat Well, Spend Less

This post is part of an ongoing series about how to eat well and spend less. Along with some fabulous foodies, organizers, and frugalistas, I've been bringing you suggestions on how to eat like a king without becoming a pauper to do it.
This month we're sharing tips and tricks to save money on good eats at the holidays. From make-ahead breakfasts to meal planning to stocking-up advice, we've got you covered.
Be sure to check out what the other ladies are sharing this week and next:
How does your freezer serve YOU at the holidays?