This month I've been collaborating with a great group of bloggers to bring to you a series on how to reduce your grocery costs while continuing to eat well. Ours is a vast and varied group: we live in different parts of the country, we have different sized families, we cook and eat differently.
But we all want to eat well and spend less.
So, putting our heads together has been great fun — and we've learned so much about each other and about how to save money on food.
Last week we each gave a peek into how we go about food shopping. I gave you a peek into grocery shopping in Southern California. I loved this whirlwind tour of the US and Canada. If you didn't catch the first train, you can now! Ready to go?
Remember: please keep your hands and feet inside the vehicle at all times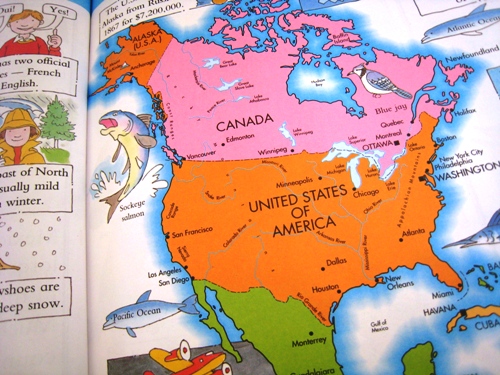 Tammy @Tammy's Recipes
Since we're starting in California, let's go up the coast to Washington State where Tammy lives. Tammy is a mom to four little ones. She approaches feeding her family from a 3-step plan:
1. Eat affordable + nutritious (or "whole") foods.
2. Shop at 1-2 stores.
3. Plan for healthy eating, even during busy or stressful times.
Take a peek into Tammy's shopping trips and see how she makes Costco and scratch cooking work for her.
Carrie @ Denver Bargains
What a lovely time in the Pacific Northwest, now let's make our way southeast through the Rockies and visit Carrie in Colorado. Carrie regularly shops at ten or more different stores! As Carrie points out,
Colorado is probably not the place that would initially come to mind when you think of places to get great grocery deals. Yes, we do have a lot of great local producers of beef, dairy, produce, and more, but we're not exactly famous for a fabulous growing season or other amazing agricultural conditions.

For whatever reason, though, we do seem to have a lot of grocery stores that are fairly competitive with each other.
And how! Carrie shows you how to get it done, whether you live in Colorado or elsewhere.
Katie @Good Life Eats
Our next stop is New Mexico where Katie cooks and feeds a family of four. As a working mom, Katie realized that running all over town wasn't the best use of her time, so she's reduced her errands to two stores,
I like getting those errands done as fast as possible so I can complete my weekly work as fast as possible – that's not to say that I don't enjoy my work, but I want to be there (physically, mentally, and emotionally) when my kids are there. And I won't lie, it's a struggle!
See Katie's tips for making the most of limited time for grocery shopping and how meal planning, list making, Costco, and a backyard garden help her out.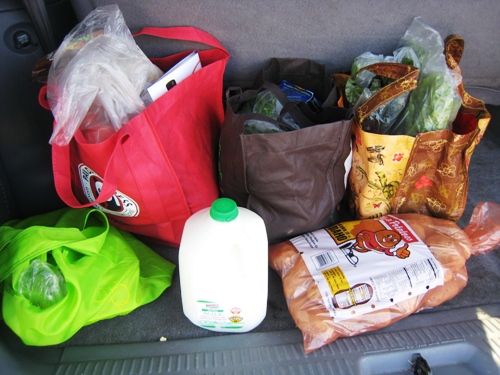 Alyssa @ Keeping the Kingdom First
Heading east, let's visit Alyssa, a California girl who's been transplanted to the Lone Star State. Alyssa recounts the story of how the big shopping opportunities in Texas got her into big budget woes. However, she's learned to curb her spending in a way that best suits her family,
My shopping habits look a bit different today. I still use coupons, but my main goal is to feed my family well. We also eat mostly gluten-free, which can present a challenge. This does mean I shop at multiple stores, but the key here is choosing wisely. Too many choices and deals can derail the best of intentions.
Check out Alyssa's tips for shopping intentionally.
Shaina @Food For My Family
Jetting north, our next stop is the land of my forefathers, Minnesota, where Shaina feeds her family of  six. Weather conditions in the Midwest can make grocery shopping a little tricky. Four seasons make for four different seasons of food availability. As Shaina says,
Our shopping habits change with the seasons as winter turns to spring and then summer brings a large harvest that turns again to winter.
Shaina shares how she makes it work, including a video of a farmer's market trip.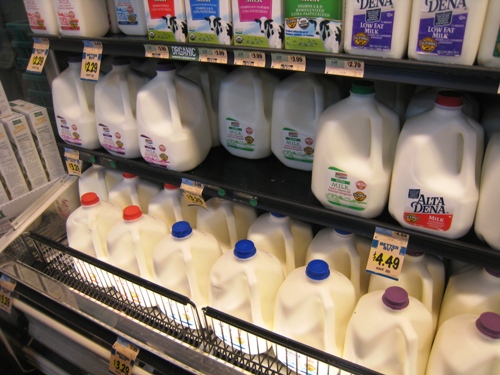 Katie @Kitchen Stewardship
Ready to go to Michigan? That's where Katie lives. Over the last year she has transformed her kitchen, moving into more whole foods. She even did a cost analysis of how their new habits compare in price to their old ones. The results are interesting, especially as her family is growing in size this year.
As Katie describes her climate, "I live in Michigan, where we have all four seasons, sometimes three in one day." She goes on to illustrate ways to shop for a whole foods diet in the Midwest, but there are great take-aways regardless of where you live.
Aimee @ Simple Bites
As you may remember, I was a French major and am a francophile at heart, despite the fact that my French is quite rusty. So, visiting Aimee in Montreal, Canada was a real treat. I had no idea that a European-esque shopping experience was so close to home. Grab a coat — we're off for Quebec!
I love how Aimee shops,
As a resident of one of the top cities in the North American food scene, I am fortunate to have a wealth of ingredients at my fingertips. Spices from a top quality spice merchant, local cheeses, apples by the bushel, and, of course, pure maple syrup are just a few of the choice local ingredients that reside in my pantry.
She goes on to explain how she gets much of her family's food directly from its source.
Mandi @ Food Your Way
Bid farewell to Canada as we head to the Eastern US where Mandi lives in West Virginia. Mandi also lives in the boonies, so grocery shopping can be more of an event than it is for some,
Because we live 25-30 minutes from the closest grocery store (on a good day, when you're not stuck behind either a tractor trailer hauling logs or someone who slows down to 25 MPH for every curve on the mountain highway), we probably spend more time preparing for our grocery shopping than we do actually grocery shopping.
Check out Mandi's tips for staying on budget and economizing money and time while shopping.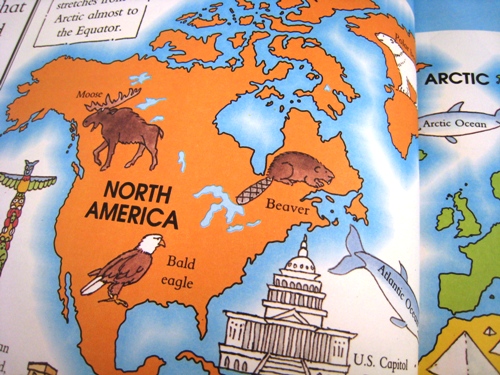 Shopping Strategies that Go Beyond Borders
No matter where you live, the strategies that these ladies have shared really go beyond the boundary lines of your cities, states, and nations. Savvy shopping has to do with a mind set. If you're determined to find a way to save money and willing to put in the time or effort, you can make food shopping fit your budget.
To help you do that, each of us is hosting a wonderful, grocery-themed giveaway today, courtesy of Kroger.
Win a $50 Kroger Grocery Card

To enter: Simply leave a comment on this post, telling me one thing you learned from the series to reduce your spending while still maintaining a healthy diet.

This giveaway is open until Sunday, May 1st, 8 pm PST. Winner will be chosen at random and notified via email. You will then have 48 hours to respond in order to claim your prize.
I can't wait to hear your answers! And don't forget to hop over to the other blogs and enter their giveaways as well. You've got nine chances to win!
Disclosure: Kroger has provided this gift card for giveaway.