Including your kids in the kitchen is a great way to teach them life skills and, eventually, save money. Eat well, spend less, and let the kids cook!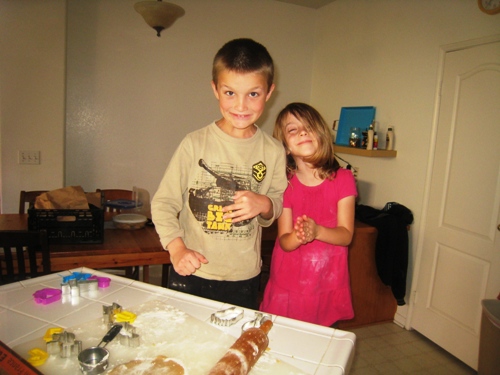 As we all know cooking and eating at home is typically healthier, tastier, and often more economical than processed or restaurant fare. And if there's more than one home cook in the house, chances are there's always someone available to cook up the night's dinner. Someone besides the Colonel, that is.
One of my New Year's resolutions was to teach my boys to become more independent in the kitchen. That, my friends, is easier said than done. Not because they aren't capable. But, because I'm a control freak.
I didn't realize how much this was true until the last month or so when I started checking myself before I grabbed the tongs, spatula, or spoon away from the child working in the kitchen. I had no idea I was doing this previously. But, I must have been. All of a sudden I found that I was stopping myself from interfering.
And the result?
My seven-year old started cooking the pancakes on the griddle and flipping them with gusto. He begs for pancakes every morning so that he can make them.
My nine-year old portioned a bulk bag of cheese into perfect one-pound portions to store in the freezer and now regularly mixes the bread dough.
My eleven-year old mixed up the dough for hot dog buns and tested a recipe for stuffed crust pizza.
My fourteen-year old baked a batch of Chocolate Minty Melts while I was out of the house and figured out his own substitutions when he saw we didn't have any chocolate kisses.
Who knew?
Apparently, I did not. Because I would not previously have asked anyone of them to pull off the aforementioned feats alone or with limited supervision. But, once I put the blinders on (myself) and walked away, they did great. And now I know that I can cut them lose on a lot more cooking tasks.
Now, I wonder what ELSE they are capable of!
My kids have been cooking with me or hubs in the kitchen since each one was big enough to climb on a chair. But, I've been reticent to just release the reins and let one of them drive the chuck wagon.
The entire process has been such a lesson to me. My kids are capable of far more than I expect them to be, especially where food is concerned. While hubs and I were gone on date night, my eleven-year old even tried his hand at food photography!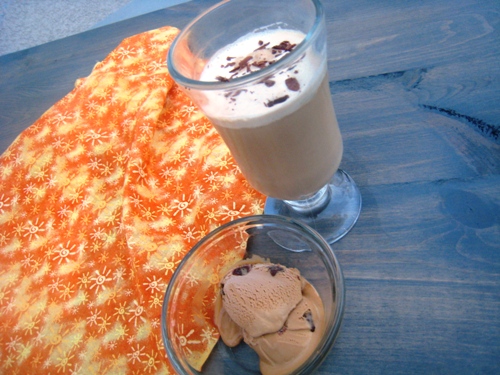 It's one thing to set a good example, but it's another to teach — and to let go. I think I've worked at the first two, but have failed at the last.
And yet, how did I learn? I just messed in the kitchen, and my mom let me. (Thanks, Mom!) I started copying down recipes as soon as I could write, attempted (and failed) to make fudge when I was seven, and had perfected lemon meringue pie by ten. But, my mom really didn't have to do much — except maybe clean up after me.
She cut me lose. And then I just did it.
What am I afraid of?
Why haven't I been looser with my control of the kitchen? I have no idea, really. I hate to clean, that would be one thing. I fear wasted ingredients. But, let's look at the ultimate fruit:
I can do something else while my kids do the cooking! 
It's an amazing thought, really. And then because I'm the mom, I can make them clean up the mess. Goodness, what have I been waiting for?
I don't have it all figured out, but I'm sure excited to see where this goes. As I type this, one of my sons is crafting birthday cake toppers for his brother's big day while the cake their sister and I made is cooling on the counter.
I can't wait to see where this goes!

This post is part of an ongoing series about how to eat well and spend less. Along with some fabulous foodies, organizers, and frugalistas, I've been bringing you suggestions on how to eat like a king without becoming a pauper to do it.
This month we're sharing tips and tricks for including kids in your kitchen routine. Be sure to check out what the other ladies are sharing this week or browse their archives:
How do YOU include your kids in the kitchen?