Time is money. And it matters how you spend it while grocery shopping.
(The giveaway is now closed. Congrats to the winner: holbrookmail@)
Grocery shopping is one of my all-time favorite activities. I'm weird. I know.
There's something about seeing all those different ingredients lined up on the shelf, it gets my mind going with the possibilities. I want to try out that maple sugar and the shelf-stable whipping cream at Trader Joe's. I'm tempted by the piles of fresh produce at Sprouts. And the clearance section at Ralphs? It's a regular stop.
I stay out of fabric and craft stores for this reason. I buy fabrics and supplies and then don't know what to do with them.
I know what to do with the food, though.
Four years ago I spent hours, probably about ten per week, clipping coupons, tracking sales, planning my grocery trips, shopping, and unloading. It was a time investment that was well worth it. We had a very small grocery budget since we were busy paying off our debts. I figured my efforts garnered me about $25/hour in savings.
I had more time than money, so it worked for me.
Today we have a little more money since it's not going to car payments and credit card bills, but I feel like I have less time. Partner that with a slight shift in our eating habits, away from processed to more whole foods, and my shopping habits have changed. But, I don't have that much money that I can throw all caution to the wind.
Folks who follow my Grocery Geek posts already know this, but currently, I'm trying to keep our grocery budget to $800/month to feed our family of eight. Keep in mind that this is FOUR boys who eat like ravenous animals.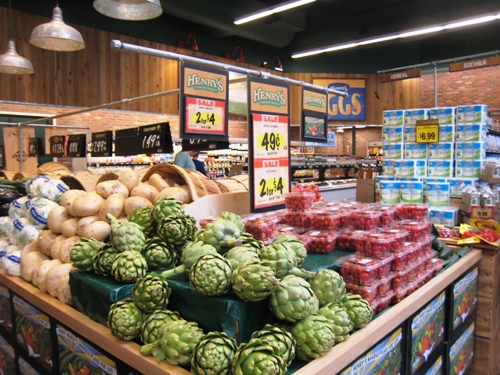 Here's how I work to save time (and money) at the grocery store:
I don't use coupons (much).
After several years of die-hard couponing, I gave it up. Don't get me wrong. I credit the effective use of couponing to helping us get out of debt. Coupons sustained us in a very trying time. So, I am not belittling their use.
That said, I do think coupons have their place. They were a wonderful means to an end for our family.
Somewhere along the line, several circumstances collided to make me rethink my coupon usage.
California stores became stricter about their coupon policies. It was too complicated to keep track of the stores' different policies. Some allowed internet printables; others limited their usage.
I realized that most of the things that I bought were not "real food". That's not to say that you can't find coupons for unprocessed foods, but the ones I was most temped to buy were highly processed with lots of junk added. Our family doesn't need or want that.
It wasn't worth my time to go get the paper each week or search for printables. Time is money and it wasn't paying off.
For me, the time investment of couponing didn't reap us big rewards for our eating habits or our budget, so I was okay to let it go. That said, if I find a good one, I do clip it and try to use it effectively, matching it to a sale to increase the savings.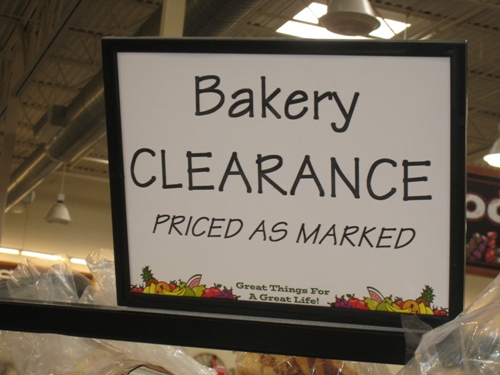 I know my stores.
Each week I get the sales circulars from seven different stores: Ralphs, Albertsons, Vons, Smart and Final, Stater Brothers, Fresh and Easy, and Sprouts. I don't spend time even looking at four of those flyers. Based on their location or their product offerings, it's just not worth it to me to even consider those stores.
Ralphs, Vons, and Sprouts get my attention on sale items. Walmart, Costco, and Trader Joe's are regular stops for me that don't offer weekly circulars. I know which stores have the prices and products that fit our family's needs, which have great clearance sections, and what variety each one carries, so I don't waste my time on other stores.
I limit my shopping to just a few stores each week.
Even though, I used to go to up to ten stores each week, including two different drug stores, I usually limit my shopping to one or two stores each week. I gassed up the car today for a whopping $4.65/gallon. So, transportation costs are now making a big difference in where I go and how I shop.
I check the sales.
Before I even get in the car, I check the sales. This way I know which store is worth going to. This past weekend I rifled through the flyers and decided that Trader Joe's would give the biggest bang for my buck, transportation, and time. I made one cohesive list and made one trip on a day when I was already halfway there for another reason.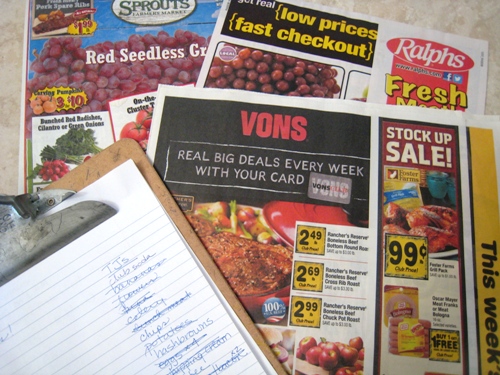 I make a list.
Making a list saves me time because I don't end up short on items that we need. I don't overbuy (usually). And I don't make extra trips. I try to buy for at least a week at a time, stockpiling when there's a great sale.
I let someone else do the shopping or have it delivered.
It's a hard thing to let go control over something I enjoy doing. I'd much rather let someone else clean toilets. But, the reality is that having my husband stop at Costco on his way home from work saves me time and gas money. It's on his regular route, and he doesn't mind doing it.
I also decided to have our produce box delivered each week. Going to get the box not only involved time and gas money, but it took a huge bite out of our school day. For an extra $5 I get to stay home and let the box come to me.
This also saves me mental effort which I highly value. I need to keep all the brain cells I can.
We each have different priorities and different ways of shopping. These change with the seasons of life and finances. It's very possible, though, to eat well, spend, less, and save time.
Eat Well, Spend Less

This post is part of an ongoing series about how to eat well and spend less. Along with some fabulous foodies, organizers, and frugalistas, I've been bringing you suggestions on how to eat like a king without becoming a pauper to do it.
This month we're sharing tips and tricks to save time in the kitchen. From cleaning up in a jiffy to creating a well-stocked pantry to prepping food in advance, we've got you covered.
We're also each sharing a giveaway for a copy of my book, Not Your Mother's Make-Ahead and Freeze Cookbook. Talk about your time savers! Freezer cooking, while it does require a little time investment on the front end, can reap you huge amounts of time savings on busy nights when you crave homemade convenience foods.
Win a copy of my cookbook!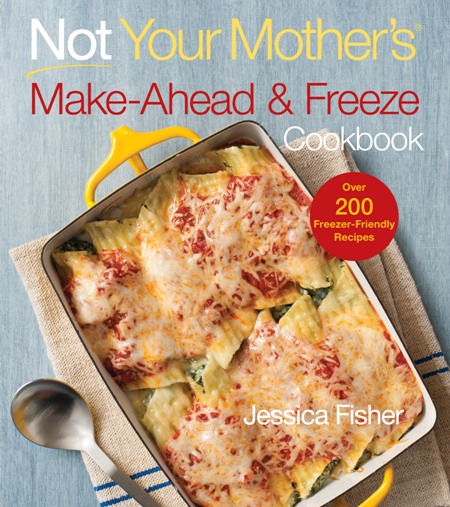 To Enter:
Simply complete the information on this form. Please know that the information is only being gathered for the purposes of mailing you your prize in the event that you are chosen as the winner. This information will not be sold, traded, or given away.
This promotion is open until Monday, October 22, 2012, at 8 pm PST and is limited to US residents, 18 years or older. Friends and family of Jessica Fisher and Life as MOM are ineligible for entry. The winner will be chosen randomly. The prize for this promotion is provided by and shipped by Harvard Common Press and/or its representatives. This post will be updated with the beginning of the winner's email address. Jessica Fisher and Life as MOM will not be held responsible for unclaimed or undelivered prizes.
Be sure to check out what the other ladies are sharing this week and enter their giveaways as well:
How do YOU save time on grocery shopping?