Host a summer party without spending too much or working too hard. Eat well and spend less; that's the name of the game.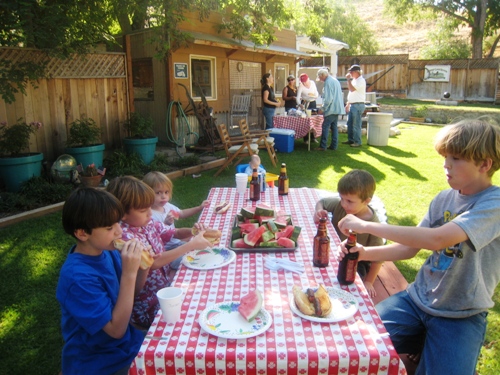 Summertime parties, typically, are outdoor affairs. Even if it's hot and humid, we tend to congregate outside. Hopefully, with a pool or lake within easy reach. I have fond childhood memories of our family friend Rita's pool parties. Cold drinks flowed endlessly while the ice cream maker hummed. Smoke from the grill filled the air.
Outdoor parties, of course, mean grilling. You know: cookout, BBQ, fire-up-the-barby. Whatever you call it in your neck of the woods, a grilling party is a great way to offer hospitality to friends and family without having to get too extravagant.
Baby showers, graduation parties, Father's Day get-togethers, team parties, and bridal showers all work well in an outdoor venue. We even had our wedding reception styled as a backyard BBQ with checked tablecloths, grilled meats, and an abundance of salads. Clearly the outdoor party is near and dear to my heart.
Here are some ways to keep the costs minimal at the same time as enjoying good eats: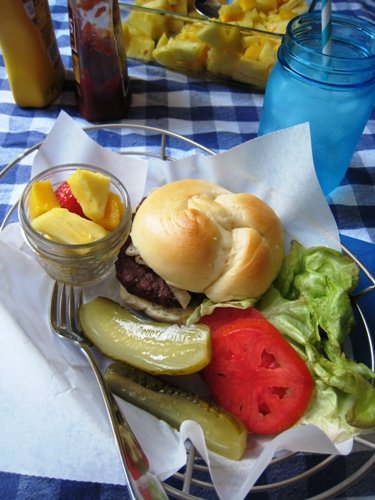 1. Stock up ahead of time.
Memorial Day opens the summer season. That means grocery stores will be making a big bruhaha in the next week. Now is the time to stock up on the cookout items you know you will use in the coming months: BBQ sauce, ketchup, mustard, pickles, chips, and grilling meats.
I am a firm believer in stockpiling, paying a low price in advance of the need. This way I have chicken that I bought at $1.99/pound waiting in the freezer instead of paying $5.99/pound when I really want to have it.
Check the expiration dates on canned and bottled goods before you buy too much. It's not a deal if it goes bad before you use it up. You should see a flurry of sales again around the Fourth of July and again at Labor Day.
Watch throughout the summer for the cuts of meat that you like and stock up. Freeze the extras so that you're ready for a backyard party when the occasion arises.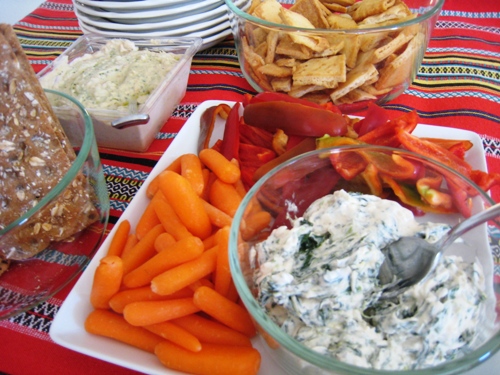 2. Plan a simple menu.
I am notorious for over-planning. Debt cured me of that, or at least curbed my habit of overdoing. I learned the hard way to stick within my means.
And honestly? Simple doesn't need to be scarce. Simple means easy. You win twofold by not overspending and by not overdoing.
Serve one or two appetizers, not five. Try one of these budget-friendly family favorites:
3. Let the season and the sales guide you.
Unless it's a special occasion, let the season and the sales guide your meal planning. If T-bone steaks are not on sale, don't buy them. Opt for chicken or fish instead, if that's the week's special.
Peaches, nectarines and other stone fruits will be plentiful and cheap as will a plethora of other summer produce. Make summer fruits and vegetables the stars of your menu, not apples and pears. You'll stretch your buck a little bit farther.
If you are serving a meal of grilled meats, add a selection of salads, some rolls, some refreshing drinks, and a sweet treat at the end. If there aren't too many dishes to prep, you'll enjoy the day more.
Here are some of my favorite recipes that are easy, economical, and super-duper good. Don't make them all at once; just choose a few!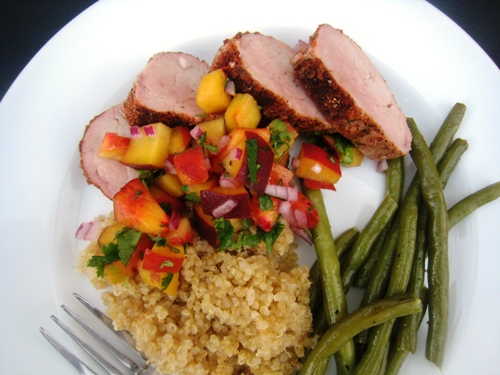 Toppings for Grilled Meats
Salads
Rolls or Bread
Drinks
Sweet Treats

4. Let friends contribute.
Folks have mixed feelings about potluck or letting guests bring something to contribute to the meal. A lot may have to do with family culture and experience. Mine is that you pitch in when and where you can.
When we were really, really strapped for money, I counted it as an extra blessing when we were invited to someone's home for dinner. I had no qualms over bringing a dish or two to contribute. It always seemed like Stone Soup. If everyone contributes a little, there's more than enough for everyone.
While you may not feel comfortable asking friends and family to bring a dish, it's perfectly acceptable to let them do so if they offer. Finances should not prevent you from spending time in fellowship with the people you care about.
If you really want to handle it all yourself, consider a super simple hot dog cookout or a dessert party where you're not providing many courses.
Hosting a summer party doesn't need to be expensive or complicated. Remember enough is as good as a feast.

This post is part of an ongoing series about how to eat well and spend less. Along with some fabulous foodies, organizers, and frugalistas, I've been bringing you suggestions on how to eat like a king without becoming a pauper to do it.
This month we're talking about summertime entertaining. From beverages on a budget to great potluck recipes to budget-friendly birthday parties, we've got you covered.
Be sure to check out what the other ladies are sharing this week:
Got a favorite trick for backyard bashes?
Be sure to share it in the comments.