Looking for healthy recipes that won't break the budget? Try out these healthy snacks ideas for the new school year.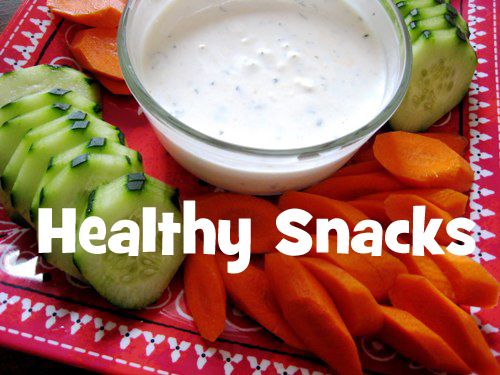 Our family is not yet ready to go "back" to school. Well, I'm not. I've ordered all the school books, made the obligatory trip through the school supplies aisle, and am otherwise in denial that the summer is drawing to a close.
The kids have done math and literature all summer, so it's not like we've completely been at recess. We'll gear back to all the other disciplines after Labor Day. In the meantime, I'm trying to prepare myself for the transition. I've been strategizing my new personal planner/household notebook for the new year, working out a new daily rhythm, and otherwise getting into planning mode.
In some ways I'm in nesting mode. I know that with a big book deadline looming as well as the start of a new school year — this year with six kids! — our daily lives are going to go through some big transitions.
Food, particularly good, healthy food, is one of those things that helps in any transition. Don't you think?
Whether they be mid-morning nutrition breaks or afterschool snacks, healthy recipes that kids like are never in low demand. We want to know that our kids can be recharging throughout the day on healthy fare, not over-sugared, over-salted junk. While there are certainly a great number of convenience items that can fit that requirement, I've found that I'm usually better off making it myself.
Honestly, homemade simply tastes better than most of what you can buy in a box. It's usually cheaper, too. Though I was raised on boxed fare, I started making "from scratch" as a way to save money. I learned that it tastes better that way also.
I'm currently collecting ideas for how I can keep my kids fueled on good stuff without a ton of work or cash. Here's what I've come up with so far: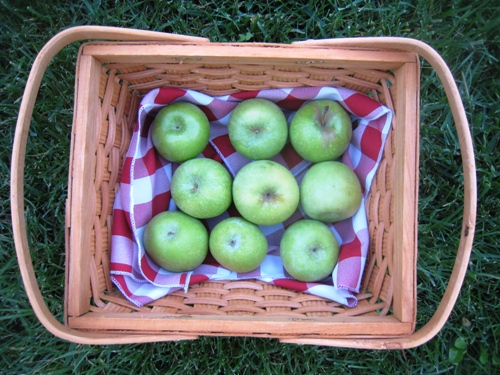 Veg out.
My kids are big fruit and veggie eaters these days. I'm absolutely stunned. I thank the produce box for that. Over the past weekend one kid asked if he could dish up extra cauliflower for himself. Say what? Another asked if I would add spinach to the grocery list. Who can say no to those requests? Not me.
The dozen pears that I bought last week disappeared in about two days. And you would not believe the number of bananas we're going through these days! In the time it took me to get out the baking ingredients for banana muffins, someone swiped my last banana while my back was turned. The culprit happened to be a very handsome fifty-one year-old. Heavens! It's coming from all angles.
This is the family that used to regularly order from the dollar menu at McDonald's.
Clearly, though, my family's craving for fruits and veg is a good problem to have. So, I'm putting vegetables and fresh fruits at the top of my list of healthy snacks. Here are some of our favorites:
Frugal tip: Buy the produce that's on sale and in season for the best value. Apples in September taste so much better than the apples that are available in June. They're a lot cheaper, too. Carrots and apples both store well so stock up when you see a good sale.

Juice it up. Or blend it.
Last fall we bought a home juice extractor. The kids and I had a blast discovering all kinds of different juice combinations. It proved to be a great afterschool snack last year, timed with FishPapa's arrival home. It seemed to be just the thing to hold everyone over through the late afternoon until dinner.
You can even package juices and smoothies in school lunches. Add a little lemon juice to keep the juice from browning. Check out Shaina's tips for making frozen smoothies packable.
Armed with that and our Magic Bullet, I'm equipped to make all kinds of homemade juices and smoothies, like these:
Frugal tip: Use in-season fruit for your juices; they'll taste better. Since smoothies are usually made with frozen ingredients, stock up and freeze you own. If you find a great deal on bananas, slice them and flash freeze them to use in smoothies later. Build a smoothie station so kids can make their own.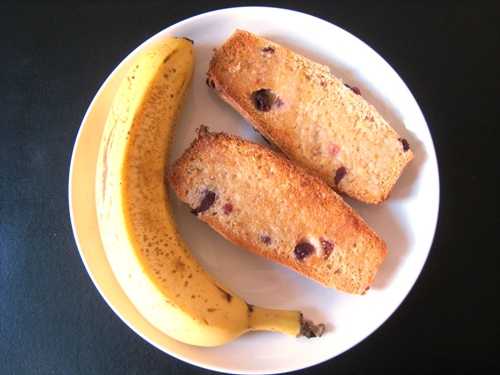 Bake someone happy.
My kids are now getting to the age where I can cut a few of the older ones loose in the kitchen. Baking is a great exercise in science as well as home economics. The older boys are getting adept at starting dough in the bread machine as well as baking cookies.
Our favorite baked snack recipes include:
Frugal tip: Baking sales are rampant in the fall, particularly near the holidays. Buy baking supplies at that time; stock up to save money later.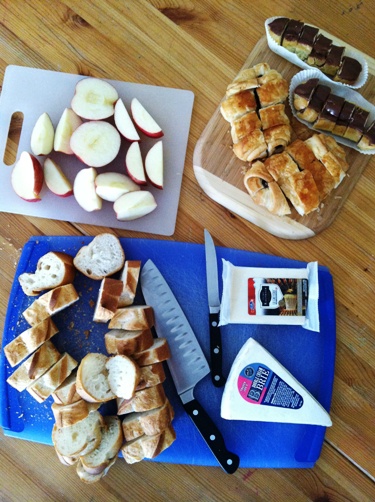 Enjoy the cheese tray.
We are a cheese family. Unabashedly. Praise God for no dairy allergies. We really like a variety of cheeses. When the deli drawer of the fridge is full, everyone is happy.
I might serve simple cheese and crackers, cheese sticks and fruit, or even something elaborate like this cheese tray. (Okay, maybe leave off the chocolate croissants and eclairs….) It's filling and fairly healthy, provided you don't have an allergy or choose to eat too much.
Frugal tip: If you're not sure if you like a certain kind of cheese, ask the store for a sample, so you can taste before you buy. Some stores will sell you very small portioins. While block cheese does not freeze particularly well, sealed packages should last quite awhile in the dairy drawer of your fridge. I buy most of our cheeses at Trader Joe's or Costco for the best prices and variety.
Enjoy a healthy snack!
Healthy snacks don't have to break the budget. In fact, there are plenty of ways to avoid unhealthy, packaged ingredients, make your own, and still eat under budget.

This post is part of an ongoing series about how to eat well and spend less. Along with some fabulous foodies, organizers, and frugalistas, I've been bringing you suggestions on how to eat like a king without becoming a pauper to do it.
This month we're talking about summertime. From summer lunches for kids to taking freezer meals on the road to budget-friendly car snacks, we've got you covered.
Be sure to check out what the other ladies are sharing this week:
 What's YOUR favorite healthy snack?