Eat Well, Spend Less
We are a participant in the Amazon Services LLC Associates Program, an affiliate advertising program designed to provide a means for us to earn fees by linking to Amazon.com and affiliated sites. We participate in other affiliate programs as well. For more details, please see our disclosure policy.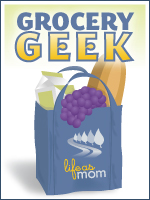 A few weeks ago we had a fabulous discussion about rising grocery prices and what we, as moms and home managers, can do about it. I dunno 'bout you, but I am not going to go quietly into this good night. There's a battle to be fought.
The economy may be in a slump, but that doesn't mean I have to pay high prices to feed my family well. The Mama Bear is ready. So, watch out!
That's why I'm so excited to tell you about a new series starting next week. Along with 8 other bloggers, I'm going to be sharing tricks and tips for saving money on food costs.
Not only does this blogging team represent many different regions of the US and Canada, but we also come from a wide range of food cultures. From couponers to farmers market shoppers, from real food to home cooking plus a few manufactured convenience items, we've got you covered.
You are bound to find suggestions to help you in your "life as MOM" to

Eat Well and Spend Less! Could it get any better than that?
Who's with me?
I'm pleased to be collaborating with these girls:
If you don't know these ladies already, tonight would be a great time to go meet them. They have all been such an encouragement to me over the last year in eating and in spending less.
We hope you'll join us in eating well and spending less this month!