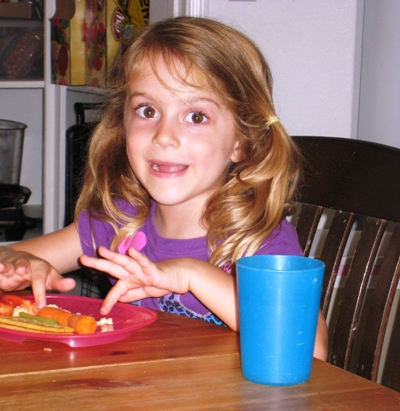 I've regaled you with accounts of our journey toward better eating. We have cut down our intake of processed foods, starting eating more organic produce thanks to a weekly produce co-op, and trying to dance that fine line between good old-fashioned home cooked food, a busy life, and taking advantage of convenience items that buy me time.
It's a challenge, to be sure. I don't have it all figured out. And unfortunately, no one is embracing the wealth we have in eggplant, but I'm gonna keep on trucking.
Here are some steps that I'm taking to try to get my kids to eat more fruits and vegetables: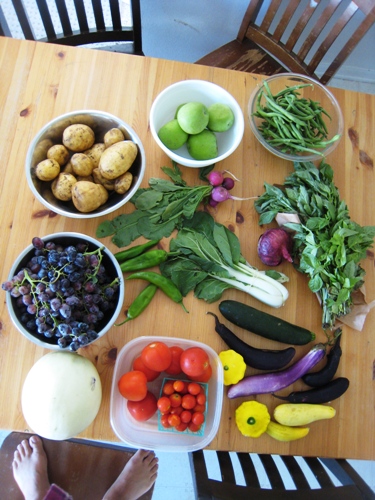 1. Make their favorites plentiful and available.
Picking up a fresh produce box each week has really helped keep us supplied in fresh fruits and vegetables. The grapes, plums, asian pears, and apples have all been fabulous. Though the apples were a bit tart, they were great in applesauce and pies. Having a regular supply of my kids favorite fruits encourages them to eat more of them.

2. Try something new.
Last year eggplant and swiss chard made their debut on our family's menu. This year, it's been bok choy and sorrel. Truth be told, I'm usually the one who eats most of it. Me, and my wild foraging teenager. But, everybody tries it. They have to. I make them eat at least one bite every time I serve it. I figure familiarity breeds tolerance. Or something like that.

3. Add vegetables in small quantities.
Last week I had a variety of vegetables that I needed to use up before the new delivery came. I was tempted to make ratatouille. Again. But, we've had it a lot over the last year and the freezer is full. Instead I sauteed the squash, eggplant, peppers, onions, and garlic in olive oil and divided the mixture into smaller containers.
I froze the vegetables to add into soups, chilis, sauces, and egg dishes later with other ingredients. I'm hoping they'll blend in with the crowd and that a few more than normal will slip in unnoticed.

4. Offer choices.
Last week, I offered two choices for soup night: Vegetable Beef and Cauliflower Broccoli. (I also had a good dessert waiting in the wings.) I stuck to my resolve to have the kids eat one bowl of soup. FishBoy7 had the hardest time of it. Neither soup appealed to him so I had to basically babysit him until it was gone. But he did it and he was so proud of himself he did a touchdown dance afterward, kissing his arms and everything.
See? Eating your veggies empowers you.
The others tasted each soup and chose one based on their preferences. One child ate both kinds; another discovered that he really liked the cauliflower and broccoli. The others got to practice eating with thankfulness.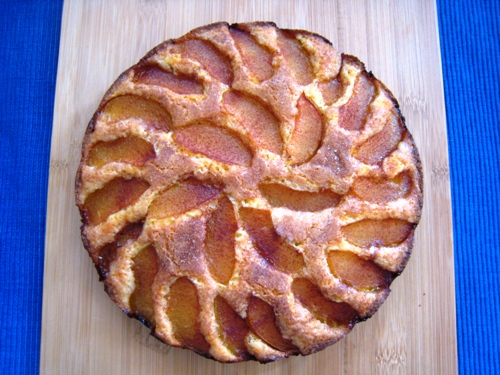 5. Bake with it.
While we've loved the plums we got in our produce box, it is easy to tire of something if you have it too often. If it's bakeable, though, you can redeem it. I baked up this plum cake that was absolutely delicious. It didn't last but a few hours.
Fruits are naturals for baking, but veggies can do double duty, too. Zucchini, squash, and pumpkin all go great in baked goods. Waffles, pancakes, breads, muffins, and cakes all welcome them in to tasty goodness.

6. Pack a healthy lunchbox.
Whether your school is at home or away, serving a healthy lunch is key to fueling our kids to succeed throughout the day. Dr. Praeger's is a company that I only recently learned about. The company sent us some samples of their frozen vegetable entrees, like spinach bites, potato crusted fish nuggets, and pizza bagels. My kids loved them, as did I. My favorites were the spinach littles in the shape of dinosaurs. I could eat the whole box myself!
One of the things that I loved about the different entrees we tried was that I could pronounce all the ingredients. That is a definite plus in my book, a great way to blend that healthy food choices with a busy life.
Dr. Praeger's offers all-natural and nutrient-rich options that are a great way to help kids eat sensibly, maintain a healthy lifestyle and make smart food choices. Yes, a certain Mr. Seven questioned why we were eating spinach dinosaurs, giving us a great "teachable moment" to talk about good things to eat.
Dr. Praeger's is currently working to teach children how to make smart food choices and providing them with healthy options should be a priority. By launching Dr. Praeger's Healthy Lunchbox Day, they are working to encourage families to pack a veggie-rich lunch at least once a week on Wednesdays and help kids develop healthy eating habits for life.
You can "like" Dr. Praeger's Facebook page and get weekly tips and tricks on how to pack a great, healthy lunch for your kids.
Win a sampling of Dr. Praeger's Sensible Foods
This week 3 LifeasMOM readers will win two free product coupons for Dr. Praeger's.
To Enter:

Leave a comment, telling us what YOU do to pack your kids a healthier lunchbox.
This giveaway will be open until Sunday, October 9, 2011 at 8 pm PST. Winners will be chosen at random and notified via email. Please respond within 48 hours to claim your prize.
This giveaway is now closed. Congrats to the winners: vLmiller04@, danihighley@, phoward336@
Disclosure: I have been provided with review product and compensation for my time spent writing. However, my opinions are entirely my own and I have not been paid to publish positive comments.