We strive to eat healthy home cooked food without spending an arm and a leg to do. Here's how our family works to eat better on a budget.
Five years ago we were deep in debt, struggling to make ends meet, and anticipating both a sixth child and a cross-country move. It was a wild and crazy time in our family life.
It was also at that time that I started writing here at Life as MOM. That amazes me. So much has happened in that span of time that it makes me a bit dizzy.
That was 2008. In 2009 we kissed our debts goodbye. But in order to stay in the black, we've had to be vigilant. We can't go shopping willy-nilly. We have to stick to a budget and keep our goals in mind. We have to audit ourselves frequently to make sure we're "acting our wage".
Over the years, I've seen grocery prices rise in such a way that it makes me feel like my grandma. "I remember when chopped green chiles were twenty-five cents a can." That was in 1994. Now I'm lucky to find the small can for under a buck. Note: I don't use those very often anymore for that reason.
Back in 2011, I joined forces with a group of bloggers to share ways that we're working to eat well and spend less. I've learned so much from these ladies. We're officially entering our third year of this series and I'm so thrilled to be continuing it. You can browse the archives here.

We've covered a variety of topics. Did you miss one?
I'd love your input on future post topics.
Fill out this form
to let me know your question or current grocery spending challenge.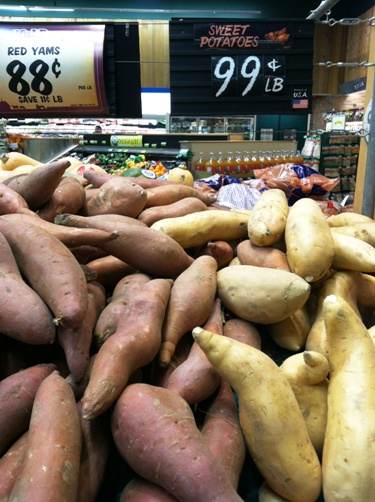 Eating Better on a Budget
This month the Eat Well Spend Less crowd is giving an update on how we save money on food in each of our homes. Since we live in different areas of the continent (California, Colorado, Texas, Minnesota, Michigan, West Virginia, and Montreal) and have different sized families, I think it's a fascinating exercise.
We're all moms (collectively we have 25 children) and feeding our family good, affordable food is a priority for all of us.
It's also good for me to review my money saving ways so that I can remind myself of what's important to me when feeding my family. Years ago when we were in debt, I couponed heavily. I had a $100 per week to work with. Coupons helped me stretch that hundred bucks so that we always had more than enough. Unfortunately, we also had a lot of processed foods. I looked at it as a means to an end: getting out of debt.
Since then I've kissed coupons goodbye and am working toward reducing the amount of processed foods we eat on a regular basis. I've done some food reading and tried to make sustainable changes in how our family eats.
While we don't eat everything "organic", grass-fed, or fair-trade, I'm realizing that speaking with my pocket book does matter. Even if just to me. I know I could spend less than we do if I bought all conventional items, but currently my overarching goal is to eat better on a budget.
As such I've employed other techniques besides couponing in order to keep our spending in check as well as create what I hope is a better diet for my children.
Here are some of the strategies I use for eating better on a budget:

Meals at Home
I have always considered eating out or take-out to be great fun. There are no dishes to be done; everyone can choose what he wants; the family loves the experience. We have a separate eating out budget, but we still try to curb our spending.
Eating at home will almost always save us money these days, especially when I get picky about the taste and quality of restaurant fare. Junky food for a high ticket price kind of defeats the purpose.
Our family loves breakfast out. But, recently I've held firm to not giving into the requests for The Broken Yolk. Turns out buying a cart full of breakfasty groceries costs about 1/3 of going out with food leftover. Point taken, self; we'll be making our full-breakfast at home.
Scratch Cooking
Buying convenience items at the store can make eating at home easier, but I save more money by cooking from scratch. I make homemade pizza, salad dressings, breads, desserts, granola, pretzels, ice cream, yogurt, and am even trying my hand at homemade mayonnaise.
I certainly don't make everything myself, but when I do, I almost always save us a big chunk of change. I control the ingredients which is huge for me. Plus, it tastes better!
With the exception of birthday cakes which I make with a boxed mix, I try to bake from scratch whenever possible. This saves us dollars per loaf or dozen of baked goods. Plus it tastes better and doesn't have pesky ingredients that I'm trying to avoid like soy and high fructose corn syrup. I make it easier by preparing baking mixes in advance.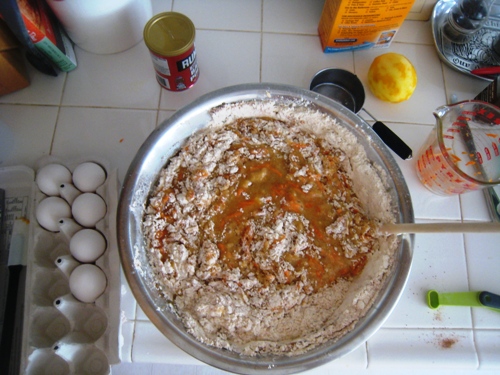 Pantry Challenge
Twice a year, I shop the pantry. Doing a pantry challenge on a regular basis helps me keep our grocery spending in check.
While I might go over our $800/month for 8 people budget from time to time, I stay under budget for the year by using up what we have limits waste and keeps the average decently close to the goal. Since I don't use everything up in a given month, taking a snapshot of the year's expenses and averaging, helps me see more accurately what we're spending. I am a grocery geek and the pantry challenge has served us well.
Freezer Cooking
Shortly before my first child was born sixteen years ago, I started bulk cooking and filling my freezer with homemade convenience foods. I still make this a regular practice in our kitchen and I post a freezer cooking plan each month. In fact, I wrote a book on freezer cooking.
Freezer cooking saves me time since I'm mass producing meals for the coming weeks. It saves me money because I benefit from bulk buying and heating the oven once for many meals. And it saves me a little patience and friendly disposition because I'm not (usually) scrambling for what to eat. It's all ready and waiting in the freezer.
Savvy Shopping
Five years ago I would chase to a dozen stores to grab the best deals. Now that gas is well over $4 a gallon, I'm a little more selective in my shopping, even if most of my favorite stores are within 2 miles of my home. I do have to drive a little farther for Costco and Trader Joe's, so I plan carefully.
Since I'm trying to improve the quality of our family's diet, I've learned which stores generally have the best prices on the things that I want:
Costco: hormone-free dairy, meats, fish, organic pasta, canned tomato products, some breads, some produce
Trader Joe's: all GMO-free products, nuts, imported cheeses, breads, snack foods, fish
Ralphs: clearance marked downs, often organic, loss leaders on meat
Sprouts: produce, meats, some dairy, health foods, bulk foods, clearance items
Walmart: general grocery items such as canned goods, baking items, dairy
I live in Southern California, but if you live somewhere else, check out Amy's round-up of favorite grocery stores continent-wide.

Seasonal Eating
When we were newlyweds and spending more to feed the two of us than we spent to feed five kids, I bought whatever I wanted whenever I wanted. I didn't understand that there were seasons and cycles where food tasted better and was available for a better price.
A few years ago we started a subscription to an organic produce co-op called Abundant Harvest Organics. They deliver throughout Southern California. It turns out to be one of the best food choices I've ever made. Total game changer.
Every Wednesday a huge box of fresh produce is dropped at my door. It's filled with foods that are in season, grown not too far from my home. After two winters of eating greens, apples, and oranges, we understand the beauty of the first strawberries of the season or the refreshment when apriums and peas fill the box. Our taste buds have adapted and we appreciate the turn of seasons so much more.
Over time I've learned how to make the most of a CSA share and have introduced my family to a whole new world of flavors and textures. The kids still don't love squash, but we're working on it. And we're so thrilled at all the things we can do with spring produce.
Even if you don't subscribe to a CSA or produce co-op, you can find better quality and pricing when you buy fruits and vegetables in season. Now, is not the time to buy watermelon, at least not in North America. But, the price on asparagus is rocking — it's 88cents in my neck of the woods!
I certainly haven't "arrived" when it comes to finding the ideal way to shop and to feed my family. Food is very confusing these days. There's so much conflicting information out there. We're working to find our comfort zone in terms of taste, quality, and cost. But, I can say we're eating well and spending less.
Be sure to check out what the other ladies are sharing this week and how they are eating well and spending less in their homes:
What are tricks that YOU use to eat better on a budget?