Ebates, Kodak Gallery, and More
We are a participant in the Amazon Services LLC Associates Program, an affiliate advertising program designed to provide a means for us to earn fees by linking to Amazon.com and affiliated sites. We participate in other affiliate programs as well. For more details, please see our disclosure policy.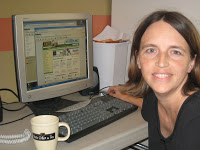 One of the ways that I plan to simplify this season is to order Christmas gifts from the comfort of my computer desk, dressed in my jammies, and sipping some great Peets coffee!*
And, I'm going to do it in a $avvy way – through Ebates, which offers you a percentage back from anything you order online through their website.
Plus, right now, there are all sorts of double cash back deals going on. If you're going to order something online, you might as well do it through Ebates.
For instance, today I ordered some baby announcements (finally) from Kodak. I went to Ebates first and logged in. Then I clicked on the Kodak gallery site where I get 10% back on any purchases. Ebates also provided a few coupon codes so that I could get a free 75 prints as well as an additional 20% off a purchase of $20 or more. I had read this post this morning about getting cards for free. And so I got a really great deal on 30 baby announcements and what little I paid, I will get %10 back from Ebates.
I'm going to go back and check out the Kodak photo books later this week. Starting at $6.99, they will make great gifts for the grandparents without my slaving over my scrapbook table. Just one more way to make things nice, but easy this holiday season.
*We're renting our home – I would never paint that orange racing stripe on the wall.