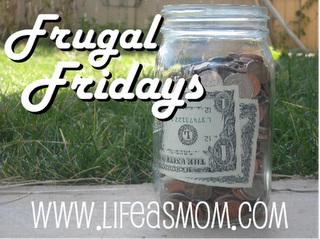 I've fretted over this post a lot. I don't want to push consumerism. I read this post last week, and it had its impact.
But, on the other hand, I know what a blessing it is to me to find out that something I've been wanting to get is finally on sale. I like to be clued in about those things.
So, here are my cautionary words of wisdom.
Don't buy something you don't need.
Don't spend money you don't have.
Consider this before shopping at Black Friday sales.
I want you and your family to have a wonderful holiday season. I want you to stretch your dollar until it screams for mercy. I want you to make sweet memories this year that don't bog you down with too much stuff.
That said, go and find the right deals and make the best purchases for YOUR family, those that increase your well-being and improve your life.
I know you can do it.
Check out some online sales that are FishMama approved here:
Amazon Books
Use the promo code BOOKDEAL to get 30% off one book purchase when you shop on Amazon. Details are here.
Life as MOM estore

This weekend use the coupon code THANKYOU to get $3 off any purchase of $8 or more in the Life as MOM estore. This includes all four of our big books:
Promotion ends on Monday night.
Ultimate Healthy Living Bundle
Did you miss the Ultimate Healthy Living Bundle the first time it came around? Never fear! There is an Encore Flash Sale for Black Friday weekend only. This time 25% of all sales will go to charity:  ShelterBox (Philippines typhooon disaster relief- this is our primary donation), as well as Compassion International (child sponsorship), Hope For Women (training/equipping widows), or Love146 (fighting child trafficking and exploitation)
For details on what's in the bundle, go here. If you already know you want it, grab it here. 
Compass Classroom Curriculum Sale
My kids have loved the Visual Latin curriculum from Compass Classroom. Learning Latin is actually fun the way Dwane teaches it. Currently, FishBoy13 is taking the film class. We've been super impressed with these DVD and online courses. They are great not only for homeschooling but also for enrichment, if you just want to give your kids a little something more.
This weekend get 20% off everything in the Compass Classroom.
What's YOUR approach to holiday sales shopping?