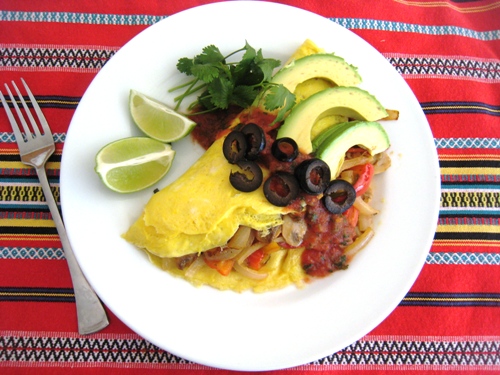 Read all about it. Jenn at Frugal Upstate is doing a series on frugal foods, starting this week with eggs. Check it out for a plethora of egg recipe links.
Recently, I've scored great deals on eggs, stocking up when they're inexpensive. With five kids, we go through a lot of eggs around here. One fun recipe that we discovered this past winter is an easy one for omelets. Found it in a very cool, Ratatouille cookbook called What's Cooking? A Cookbook for Kids. (I absolutely love it and make the baguette recipe all the time.)
Here's the recipe for Remy's Famous Omelets
Makes 1 omelet
2 eggs
1 teaspoon water
pinch of salt
1 Tablespoon butter
1/2 cup omelet filling (we use cheese, chopped tomatoes, cooked sausage, sauteed mushrooms, whatever suits your fancy.)
Directions (in my own words):
Blend eggs, water, and salt. Beat lightly. Heat frying pan to medium high. Add butter and spread it around as it melts. Pour eggs into the pan and cook until done, tilting the pan and pushing cooked portion toward middle, letting uncooked eggs run to edge. We like to flip them or cover them with foil to ensure total doneness. Sprinkle filling over half and fold over.
*Since I make these for so many people at one time, I line up 7 ramekins and mix the egg portion for each person in its own ramekin. Then I slice out the butter pats. This way everything is ready and waiting. Then as they are done cooking, I put each one on an oven-safe plate and keep them warm in the oven until they are all done.
Bon Appetit!