Embracing Football Season
We are a participant in the Amazon Services LLC Associates Program, an affiliate advertising program designed to provide a means for us to earn fees by linking to Amazon.com and affiliated sites. We participate in other affiliate programs as well. For more details, please see our disclosure policy.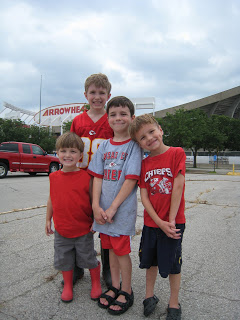 The FishBoys, back when they were Chiefs fans
It's started, in case you didn't know. All the talk about quarters, incomplete passes, touchdowns, and field goals. It's a refreshing change, actually, for the sports headlines to be discussing football players in relationship to the actual game instead of all the felonies, murders, and indecisiveness that I've read about all summer.
Reality is I wouldn't know a pigskin from a soccer ball except that FishPapa is a HUGE fan of the game. The funny thing is that I didn't know this for the first 10 years of our marriage. Seriously. We neither lived near an NFL franchise nor did we have cable for those years. So, his fascination in the sport lay dormant all that time.
And, I lived in ignorant bliss.
Since our move to Kansas City six years ago, I discovered this hidden interest of my husband's and learned that Sundays, Mondays, Thursdays, and maybe a few nights in between might be occasions for television viewing that doesn't include Food Network.
The first year or two, I may have bucked this a bit and had my nose bent out of joint over an evening derailed by a game. Now, I am learning to embrace it.
Reasons Why I Love Football Season

My husband and sons enjoy watching the game together. It's a male bonding thing that I wholeheartedly support.
Living in an NFL city does make it more fun. You feel the team atmosphere just walking into Costco and seeing half the people wearing their jerseys on gameday. Go Chargers!
I don't feel guilty for blogging or grocery shopping while a game is on. I get MOM and daughter time — free of charge! (They wouldn't notice where I was, anyway.)
The food is fantastic! Come on, who doesn't love a Tailgate Party?
I hope you'll join me in embracing Football Season and all the fun things that go along with it.
By the way, what's your favorite part of it?