Embracing The Preschool Years
As an Amazon Associate I earn from qualifying purchases. For more details, please see our disclosure policy.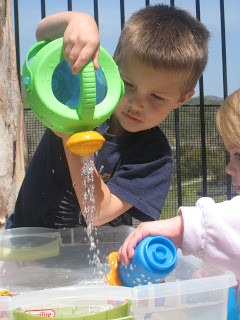 Yesterday as my two-year old, soaking wet and clad in a soggy swim diaper, climbed into my fully-dressed lap, I reflected on the brevity of this season. While spending a few moments in damp shorts may seem like an inconvenience, it is a fleeting one. Judah will not always want to climb into my lap and park it.
Our preschoolers will only be small for a short time. I love the quote by Jim Elliot that I came across recently, "Wherever you are, be all there." What a lesson for parents! Relish this season of life before it flees! Spend some time today just enjoying the wonder of being two or three or four.
The following is a list of tried and true "fun things to do" with your little one. Your big ones will probably enjoy them, too.
Embracing The Preschool Years with These Fun Activities to Do
Regular Library Day
Choose a day and time of the week that works into your family's schedule and go weekly if you can. If your local library has reduced hours, check around. You probably won't have to go far to find a location that fits your time frame. Once there, head straight to the children's section. In my experience, the children's librarians are always available to help you find things. Our favorite branch has a subject index binder for finding picture books according to topics. Learn how to use the computerized catalog as well so that you can find stories based on your children's interests. While you should choose several to read together, perhaps according to a certain theme, allow your little ones to choose books off the shelf that look interesting to them. Scan them before checking them out; you will be surprised at the wide range of acceptability among children's books. You don't want to take home a book
that would frighten your children or fall outside the moral guidelines of your home.
Storytime
As you familiarize yourself with the library, determine when their weekly toddler storytime happens. This is a great way to meet other families, expose your child to good literature, and watch him develop in a social setting.
Playdough
I remember the first time I "did playdough" with my son. What memories it brought back from my childhood. Smooshing the clay is also therapeutic for parents feeling the stress of the day. Good for kids and parents! Purchase a few tubs of premade playclay or make up your own with the following recipe. No special tools are needed other than a small rolling pin, a child safe knife, and some cookie cutters. Making your creations on plastic placemats protects tabletops and contains the mess.
Playdough recipe
½ cup salt
1 cup flour
1 T. cream of tartar
1 T. oil
1 c. water
food coloring
Combine all ingredients in a medium saucepan, scraping the bottom to make sure all dry ingredients are incorporated into the mixture. Heat over low temperature, stirring constantly. Dough will be ready when liquid starts to evaporate and mixture starts to form a ball around your spoon. Transfer to a sheet of wax paper. Allow to cool slightly. Knead dough to a pliable consistency. Store in a Ziploc-type plastic bag. Dough should stay good for about 4-6 weeks when stored airtight at room temperature.
Painting
There is a variety of choices out there. The simplest is to provide your child with large paper, chubby brushes and washable poster paint. An easel is great if you have access to one. Cover all surfaces carefully with newspaper or plastic trash bags. While this activity does take a great amount of patience on the part of the parent, it provides an amazing amount of satisfaction to the kid. Allow your child to simply explore the medium of paint. You will be amazed at the modern art he creates.
Drawing
Our four year old spends hours with pencils, crayons and plain computer paper. Don't feel like you need to provide "instruction". Merely sit down with your own supplies and create simple drawings. If you just don't feel equipped for the task, check out Drawing With Children by Mona Brookes for some great ideas.
Crafts
You don't need to be crafty to do kid crafts. Check the library for a plethora of craft books geared toward children. Some of our family's favorites are part of the Little Hands series, specifically The Little Hands Art Book and The Little Hands Paper Plate Crafts. These guides feature easy to accomplish craft ideas that can be made with simple household materials.
Cutting and Pasting
Most kids don't need (or want) a lot of structure and direction when it comes to creating collages. Provide your little ones with old magazines, duplicate photos, construction paper, child safe scissors, and a glue stick or washable glue. They will spend hours cutting and gluing. Offer supervision and instruction over glue and where to place it. On the paper is better than on the kitchen window or your heirloom dining table.
Park Playdays
When weather permits, get outside! Try a different park each week. Make a note of your favorites. Invite friends to meet you or make new ones based on the other people sharing the park with you that day. Take drinks and snacks so that you can establish yourselves there for a few hours and not rush off. If you live close enough, walk or ride bikes. Enjoy the fresh air, the exercise and being outdoors together.
Lite Brite
Yes, there are five million little choke-able parts to this toy. But the kids absolutely love it! So, provide careful supervision, not just for the choking hazard, but also for fire safety. There is a small light bulb inside the Lite Brite. This activity is a great way for little ones to learn their colors and practice small motor control. Doing it together also provides an opportunity for conversation.
Field Trips
Lastly, there is an abundance of fun and interesting sites to see in your own neighborhood or city. Review a local city guide or inquire from friends where they like to explore. Some ideas to consider are zoos, animal parks, historical sites, science museums, and children's museums.
Wherever you go or whichever activity you choose to do with your little one, it is sure to be a hit, as long as you do it together.