Pretty Cool Cake: Make a Pirate Cake
We are a participant in the Amazon Services LLC Associates Program, an affiliate advertising program designed to provide a means for us to earn fees by linking to Amazon.com and affiliated sites. We participate in other affiliate programs as well. For more details, please see our disclosure policy.
Special birthday cakes are near and dear to my heart. I love the challenge of putting my kids' latest interests atop a cake. The looks on their faces are just priceless. And being challenged by my readers is almost as much fun. I've even written an e-book with all sorts of creative, easy, and inexpensive ideas for cakes.
Twice a year here at LifeasMOM we have a party of sorts called The Birthday Cake Round-Up. In January and June readers share what fun desserts they've cooked up to celebrate the loved ones in their lives.
But your kids' birthdays happen more often than January and June, so I thought we'd have a mini-Birthday Cake Round-Up about once a month to share inspiring ideas. If you've got a fun cake idea to share, send me some photos and a simple description of how to recreate it. Write me at lifeasmom (at) sbcglobal (dot) net.
Today's cake is one you might remember: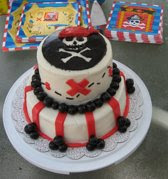 In June, Nicole of Cakes by Paperwings shared her pirate cake. She's graciously written a guest post so that you, me hearties, can have a yo-ho-ho birthday cake, too! Just a few months ago, I experimented with fondant and it was much easier than I expected it to be. You'll do fine, promise.
Pirate Cake by Nicole
What you will need:
* 2 cakes you are able to stack, frosted with white icing. I used 9 and 6-inch rounds.
*Fondant – You can make your own or purchase Wilton's pre-made fondant from any craft store or Wal-Mart.
*Red & black paste food coloring
*Plastic cutting board, rolling pin, knife and pizza cutter
*Round cookie cutter or cup about 1" smaller than your top tier
*Plastic storage container
*Crisco
Make two balls of fondant about softball sized. Color one ball of fondant black and one red. Prep your rolling pin and cutting board by rubbing it with a very light coat of Crisco.
To make the cannon balls: take a piece of black fondant and roll into a long 'snake' and cut into even pieces. Roll into balls in the palm of your hand and repeat until you have around 70 balls (less if you have a smaller cake). Place them in your plastic container and set aside to dry.
To make the skull & crossbones: take a baseball sized piece of black fondant and roll out to about ¼" thick. Using your cookie cutter or cup, cut a circle. Use your knife to cut out the skull & crossbones. Take a small ball of the red fondant, hand mold a bandanna and place on top of the skull. Transfer to a plastic container to dry.
To make the stripes & X's: take a large ball of red fondant and roll out to about ¼" thick and stretching out tall and wide. Using the pizza cutter, trim the bottom flat and cut into 1/3" long strips. Place the trimmed end at the base of the cake, pull up towards the center of the cake and trim to fit. Repeat going around the entire cake. Cut some very small strips for the X's and set aside to dry.
Stack the smaller cake on top and place the black cannon balls around the base of the small cake. Roll out a thin 'snake' of red fondant and wrap around the base of the bottom cake. Stack the cannon balls around the base, put the X's on the top layer and connect them with very thin 'snakes' of red fondant and transfer the skull and crossbones to the top of the cake.
— Mom to a 6 year old boy & 2 year old girl, Nicole is also the owner of a home based business: Cakes by Paperwings. Though born and raised in New York, Nicole currently resides in Louisiana.