If you teach your children at home (aka homeschool), you are probably breathing a sigh of relief that the year is ending at the same time as taking a deep breath for the start of next year. Part of this transition from one year to the next includes purchasing curriculum and books for new grade levels.
A few weeks ago we attended a local conference and picked up some new science and writing resources. Once I've had a chance to put them in action – or at least crack the books – I'll let you know about them.
One resource I can tell you about with confidence is Tapestry of Grace. This is an integrated, classical, unit-based course of study that provides a comprehensive survey of history, literature, geography, and world view for all grade levels.
Wow! That's a mouth-full, isn't it?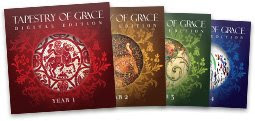 In other words, one year's plan shows me all that I need to teach my kids all those subjects and provides the info and bibliography for every grade level, K-12. For instance, this past school year, we used Year 2 which covers the history of the world from the Fall of Rome in A.D. 450 to the signing of the US Constitution.
All my kids have been learning about this time period together, but each is reading (or listening to me read) books suited to his development and grade level. (The year's curriculum does not include the books themselves, but we've never had a problem getting them from the library if the cost to buy wasn't in the budget.)
My 6th grader reads Gulliver's Travels, an adaption of the story for his age, while the younger kids read a picture book telling the same story, only more digestible for their attention spans. While he reads a history text about the causes of the American War for Independence, the younger children read a less sophisticated text. But our home is filled with conversations about the same people and places and times, and everyone knows what we're talking about. It helps learning overlap into all of life. Tapestry even includes CDs for dads to listen to so they're not out of the loop.
If you'd like to peruse it, Tapestry offers a free 3-week trial CD so you can check it out and see if it might work for your family.
But if you've already done your research and want to give TOG a go next year, this week may be the best time for your family to purchase it. From now until the 31st, you can get a $15 discount on any digital edition purchase, bonus bundles included. Just use the coupon code CONF09 at checkout.
(When you checkout – anytime, not just this week – if you type in fishmama in the Share & $ave box at checkout, you'll be helping our school earn monies toward new curriculum as well as supporting this blog. So thanks!)
Do you have experience with Tapestry of Grace? If so, what do YOU think of it?