Member this little guy? He's still going and going and going. I loved those commercials as a kid. Now, as an adult, not only do I love the familiarity of the iconic Energizer Bunny, but I also love that the product has evolved with the Technological Age.
As you know, I have four sons. And my four sons love to play video games. Last year we bought a Wii and it was a huge hit. But, the controllers can really suck up batteries if you play a lot. The FishBoys' "game time" is limited to 30-45 minutes on weekends and holidays, and likewise, there are also limits to the money we can invest in batteries to run said games. They understand this and have been known on occasion to buy their own batteries. Whenever I see a sale, I snatch them up and I try to keep our battery box full.
But, quite honestly, the battery aisle resembles to me the scene from Mr. Mom
when Michael Keaton tries to order a pound of ham, and the deli girl responds with the names of twenty different varieties. The battery aisle can be really confusing. I'm lucky if I remember if I need AA or AAA!
Recently, Energizer sent me a couple products to review that I had not seen before. OK, maybe I saw them, but I didn't really know what I was looking at. So, let me introduce you to the new friends of moms of children who own battery-sucking toys.
The Compact Recharger and Rechargeable Batteries
Years ago back when we bought our first digital camera, FishPapa invested in a large, honking thing that plugged into the wall that recharged batteries for the camera. This compact charger is the new and improved version. And it definitely is compact. When not in active use, the unit folds into itself to about the size of a deck of cards, making for easy storage.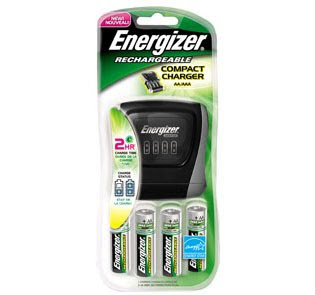 This baby is pretty user-friendly. All the batteries are inserted in the same direction and the unit plugs into the wall. I did have to read the instructions, something I am loathe to do, to find out about the flashing lights. There are two lights for each battery. As they charge, the lights will flash. When the lights are solid, that is your signal that the batteries are charged. Easy enough. (Just read the directions first.)
Energizer has an amazing collection of rechargers. While they are a little bit more of an upfront investment, if you go through batteries quickly, they are definitely worth the expense. And I think that a charger and batteries would make great gifts for the guys in your life who are impossible to shop for.
Lithium Batteries
Now here's the deal. There's alkaline batteries, and there are rechargeable batteries, and there are lithium batteries. These last babies, lithium, are proven to be the longest lasting of batteries used in high-tech devices. They are ideal for use in cameras, camera flash apparatus, hand-held GPS devices, wireless controllers, CD players, LED flashlights, and more. The Advanced Lithium batteries that we received last 20 hours longer for gaming than Energizer's regular Alkaline batteries, according to the manufacturer. You can guess where we're using ours!
This week Energizer is sponsoring a great giveaway here on LifeasMOM. Three winners will each win a pack of AA rechargeable batteries as well as a compact recharger. Perfect timing with the holidays upon us!
Please make sure that you leave an email address for me to contact you if you win and be prepared to respond to my email w/in 24 hours of contact so that Energizer can send you your prize. Giveaway is open until Sunday at 8 pm PST.
There are three ways to enter:
Leave a comment telling us what you use batteries for most at your house.
Follow me on twitter and leave a second comment telling me you did so.
Post about this giveaway on your blog or tweet it and leave a third comment giving me the link.
I hope you win!
Disclosure: I am not a battery expert. Obviously. So, please confirm the safety of the use of these batteries in your high-tech devices with their manufacturers. Battery data has been provided by
Energizer
and can be viewed on their website. I received sample lithium batteries as well as rechargeable batteries and a compact charger in order to review these products. My opinion is my own.