Enjoy a Blustery Day with Pooh (A Rainy Day Survival Kit)
We are a participant in the Amazon Services LLC Associates Program, an affiliate advertising program designed to provide a means for us to earn fees by linking to Amazon.com and affiliated sites. We participate in other affiliate programs as well. For more details, please see our disclosure policy.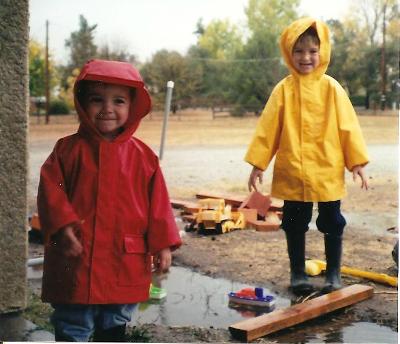 I'll always remember when the oldest FishBoy was about four. We had been reading the Winnie the Pooh books for awhile. Along came a rainy, stormy day, and he said, "What a blustery day it is!"
Yes, indeed.
Winnie the Pooh has been a wonderful part of my children's early years. He's influenced our playtime as well as our vocabulary.
We talk of honey and leaving only the sticky part behind. We play Pooh sticks in every creek with a bridge crossing it. And my girls, the youngest of the crew, absolutely love the Pooh ride at Disneyland.
What would we do without Pooh?
Plan for your next blustery day.
One of the things that can wreak havoc on "life as mom" is a rain or snow day with nothing for the kids to do. And those days are approaching!
Plan for the next blustery day when your kids can't play outside by putting together a few rainy day survival kits. I've got a few ideas up my sleeve and I'll be sharing them with you over the next couple months.
What's in a Rainy Day Survival Kit?

book and film recommendations
links to coloring pages
craft ideas and/or supplies lists
recipes for cooking with kids

You can either gather what you need ahead of time or simply bookmark or pin this post to save it for a day when you really need it: when the kids are home sick, when school is canceled due to inclement weather, when something prevents them from getting outside and having fun, or whenever someone whines, "There's nothing to do, Mom!"

Hint: These ideas also work great for your next Winnie the Pooh-themed birthday party.
Enjoy a Blustery Day with Pooh
Here are some ideas to enjoy your next "boring" day at home with your little ones. Even big kids will probably get sucked into some of the baking, storytelling, and movie watching involved.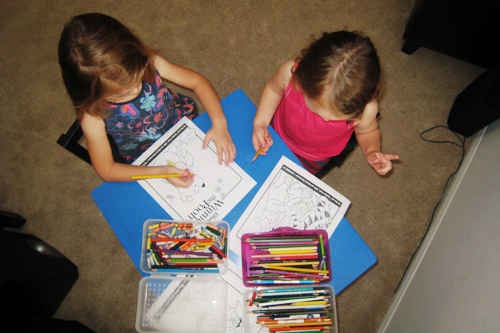 Read
There are also a number of adaptations of Pooh Bear and his friends in the Hundred Acre Wood, usually shorter version picture books of the same beloved stories. You can also buy the complete collection in one volume.
Watch
Winnie the Pooh celebrated his 85th birthday just a few weeks ago. The classic stories by A.A. Milne have been a part of childhood for several generations now.
And in commemoration, Disney is releasing the movie, Winnie the Pooh, tomorrow on Blu-Ray and DVD. FishPapa took the littles a few months ago when it played in theatres so that they could enjoy the big screen edition. So fun! They loved it.
And while my middling kids (ages 9 and 10) would hate to admit a fondness for Pooh, I heard them roaring with laughter when we screened a review copy of the DVD. It's a new take on Winnie the Pooh with appeal for all ages.
Disney movies are often hard to come by as they carefully limit how many copies and when they are available. Now's the time to snatch one up. Watch for coupons later this week. Sometimes those do become available.
There are a wealth of other Pooh-themed movies to enjoy with your kids. Some are no longer available to buy new, but you can rent them on Amazon:
We've also seen smaller adaptations over the years. These are shorter films, about 30 minutes in length, often available at libraries.
Color
Disney has also made available a number of coloring pages that you can download in a zipfile as well as some games and activity sheets for older kids.
Craft and Play
Hold a teddy bear picnic – Gather all your children's stuffed animals in the living room on a picnic blanket. Serve tea (real or imagined) and just relax and imagine with your kids.
You can also:
Create a makeshift tent out of chairs and blankets, reminiscent of when the Friends try to build Eeyore a new house.
Download these masks to cut and paste on popsicle sticks. Role play the stories of the Hundred Acre Woods
Family Fun magazine has a ginormous collection of Winnie the Pooh crafts and activities.
Play Pin-the-Tail on Eeyore.
Once the rain stops, head outside to play Pooh Sticks in a local creek or simply stomp in the puddles.
Cook and Eat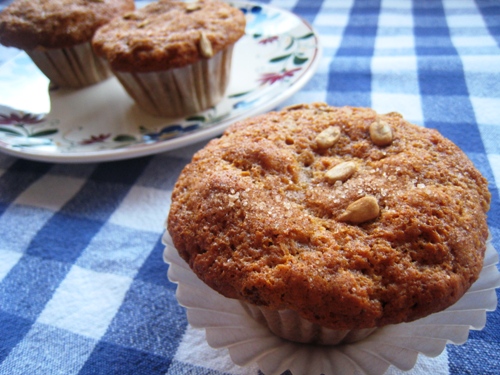 Enjoy a Honey Muffin – Mix up these Honey Muffins, plump with golden raisins. And of course, include the kiddos in the cooking.

Recipe: Spiced Honey Muffins with Golden Raisins
Ingredients
1/2 cup golden raisins
1/4 cup hot water
3 1/2 cups unbleached, all purpose flour (you can sub up to 1 cup whole wheat pastry flour)
4 teaspoons baking powder
1/2 teaspoon baking soda
1/2 teaspoon salt
1/4 teaspoon each ground cinnamon, ground ginger, ground cloves, ground nutmeg, and allspice
1 cup milk
1 cup honey
1/2 cup oil
2 eggs
1 teaspoon vanilla
Optional topping: 1 Tablespoon sunflower seeds
1 Tablespoon sugar
1/4 teaspoon ground cinnamon
Instructions
Preheat the oven to 350 &deg. Line 2 12-cup muffin tins with muffin papers.
In a small bowl combine the raisins and hot water and allow the raisins to plump a bit.
In a large mixing bowl whisk the flour, baking powder, baking soda, salt, and spices.
In another bowl combine the milk, honey, oil, eggs, and vanilla.
Add the wet mixture and the raisins to the dry mixture and fold gently with a rubber scraper until just combined. Do not overmix.
Spoon batter into prepared muffin cups.
In a small bowl combine the topping ingredients. Sprinkle this topping over the tops of the muffins, dividing evenly.
Bake the muffins for about 20 to 25 minutes or until a tester comes out with a few crumbs attached. Cool on a wire rack.
Preparation time: 15 minute(s)
Cooking time: 20 minute(s)
Number of servings (yield): 12
Other delicious options include:
Bake up biscuits and serve them with a smackerel of honey, of course.
Have a honey tasting. Serve several different flavors and talk about the subtle differences. While honey sticks are an easy way to do this, those typically have flavoring added. But, honeys made from different flower pollens have different flavors: clover, lavendar, orange blossom.
Frost a cake with pink icing in honor of Eeyore's birthday.
Win a Copy of Winnie the Pooh!

I have one DVD + Blu-ray combo pack of the new Winnie the Pooh movie to give away this week, courtesy of Disney.




To Enter:

Simply leave a comment, telling us your favorite thing about Pooh Bear and his friends.

This giveaway will be open until Sunday, October 30, 2011 at 8 pm PST. Winner will be chosen at random and notified via email. Please respond within 48 hours to claim your prize.

This giveaway is now closed. Congrats to the winner: lindaa@
Whether you cuddle up together with a good book or warm yourselves with a pot of tea and a Honey Muffin, the next rainy day need not be boring. It can be a wonderful opportunity to spend time with your peeps and make some Tiggerific memories!
How do YOU enjoy blustery days at your house?
Disclosure: Disney has provided these materials free of charge. I was not compensated to post this information.