Enjoy Fresh Flowers
We are a participant in the Amazon Services LLC Associates Program, an affiliate advertising program designed to provide a means for us to earn fees by linking to Amazon.com and affiliated sites. We participate in other affiliate programs as well. For more details, please see our disclosure policy.
For years I dreamt of a having a large cutting garden in the backyard. You know, like in Pride and Prejudice?
I'd go out with my basket on my arm and a pair of shears, I'd chat with my sisters while I picked roses and daisies and all kinds of lovelies to put into beautiful arrangements throughout my home.
Neither the patience nor the gardener materialized, so I put that dream on a shelf. Instead buying the occasional bouquet has been a good way to fill the gap.
Flowers add beauty and a sense of intention to one's home. Rarely does a flower arrangement happen by accident! Someone put some thought and money into the effort, even if it was just to call FTD.
It's evidence that someone put thought and care into bringing in the outdoors beauty. Beauty brings us rest and appreciation for the good, but small things in life.
Bring flowers into your home is a great way to stop and smell the roses.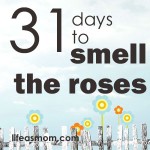 The days are long, but the years are short. I don't want to miss them! For more short and sweet ideas on how to stop and smell the roses, to enjoy the little things in life, check out my 31 Days to Smell the Roses series.
Don't miss a post in this series. Subscribe to 31 Days to Smell the Roses by RSS or email.