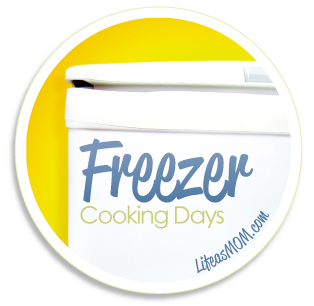 This week on LifeasMOM is all about Loving Life — finding ways to help each of us enjoy life a little more. 
Since I am such a glutton, er, foodie, getting a great meal on the table is one of my great joys in life. But, I also parent six children, teach them at home, enjoy time with my husband, and otherwise, have many pressing obligations that keep me from spending as much time in the kitchen as I would like.
And so, freezer cooking is one way in which I fill the gap between my love of food and my lack of time. By cooking up big batches of different dishes and storing them in the freezer, I buy myself some extra time. We get the best of both worlds in some respects.
Each month, LifeasMOM readers share what they've been cooking up and stashing for later. Over the weekend, Katie shared some great ideas for how real foods and freezer cooking can work together and readers shared advice for a new mom wanting to start freezer cooking. I also shared ideas for some Bake and Freeze Valentines.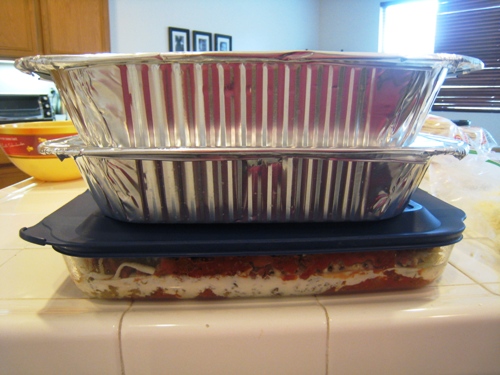 Today's the day to report back with your progress.
Freezer Cooking for me was a multi-part affair this time round. Particularly so since I had such an ambitious plan. Here's out it played out for me, stretched out over a few days' time.
Session One
— Start roasts in the two crockpots
— Start beans cooking on the stovetop
— Prepare chicken in marinades and freeze
— Take a break while the meat and beans cooked
— Shred the beef
— Portion the beans

Results: five dinners of shredded beef, three dinner portions of beans, five dinners of chicken marinades

Session Two
— Start the red sauce in one crockpot
— Start a chicken cooking in another crockpot
— Make stuffed chicken breasts

Results: 1 chicken lasagna (a surprise entry), 5 pints of red sauce, 3 dinners of stuffed chicken breast, 2 dinners of cooked chicken
Things that never happened:
Pizza Kits
Scones
Twice Baked Potatoes
Baking Mixes
Apparently, my eyes were bigger than my stomach. For a variety of reasons I wasn't able to pull off those other items in the time I had at my disposal. I'll do a few more mini sessions in the next week. But, for now, we've got the makings of 24 meals.
That should make life a lot easier this month and these meals and meal components fit very well into my meal planning for the month.
How did YOU do?
Share with us your latest freezer cooking adventures. Leave a comment with your cooking results or leave the link.

Curious about freezer cooking? Consider purchasing my cookbook, Not Your Mother's Make-Ahead and Freeze Cookbook from Amazon, Barnes and Noble, or your local bookstore. It's chock full with over 200 freezer-friendly recipes, planning pages, shopping lists, cooking plans, and basic and advanced how-to's to making freezer cooking work for any home, family, and lifestyle.