Enjoy Today
We are a participant in the Amazon Services LLC Associates Program, an affiliate advertising program designed to provide a means for us to earn fees by linking to Amazon.com and affiliated sites. We participate in other affiliate programs as well. For more details, please see our disclosure policy.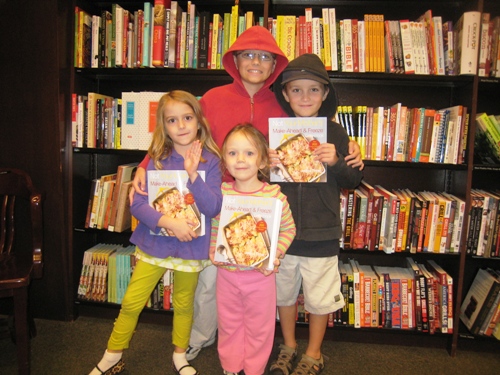 Two years ago FishPapa and I were strolling through Barnes and Noble on date night. I lingered in the cookbook section.
And prayed.
Seems a silly place to pray. But you see, I had written a cookbook proposal in the month previous and my agent was actively submitting it to publishers. I asked God to show it favor so that one day I could see my book on those very Barnes and Noble shelves. I know, sounds corny, doesn't it?
In a way it was an impossible dream, not because I wasn't capable, but because that dream had been simmering for over 20 years. In college, I'd said I wanted to be a writer, and specifically a cookbook writer.
I recognized that in some ways that dream was on par with the adolescent boy who dreamed of being an NFL football star. There were so many variables. I went on to other things: marriage, graduate school, teaching, motherhood. I honestly didn't think seriously about writing a book until after our last baby was born. Life had been too blessedly full.
Three years ago the idea of really pursuing this idea grabbed hold of me and wouldn't let go.
And here we are. God has graciously allowed me this amazing, crazy experience. I'm so very thankful.
I share this not to bore you with more book talk, but to say that sometimes dreams and goals have to wait a time.
If it's right, it will happen.
Maybe you've been wanting to accomplish something that is big in your heart and mind, but life's circumstances are preventing you from seeing it to fruition. You still feel a tug to
write a book
sing
paint
draw
go to school
travel the world
get married
start a family
buy a home
get out of debt
Your dream may be a great one, but maybe now's not the right time. But, it might be the right time….
at a different time.
Trust in the Lord with all your heart
and lean not on your own understanding;
in all your ways submit to him,
and he will make your paths straight.
— Proverbs 3:5-6
In the meantime, trust God's timing. Rejoice in where you are today. Put your heart into the tasks He's put at your hands today. Enjoy today.
Enjoying today is a great way to stop and smell the roses.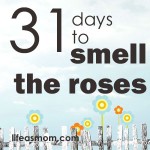 The days are long, but the years are short. I don't want to miss them! For more short and sweet ideas on how to stop and smell the roses, to enjoy the little things in life, check out my 31 Days to Smell the Roses series.
Don't miss a post in this series. Subscribe to 31 Days to Smell the Roses by RSS or email.