Summer weather lasts far past Labor Day. Are you tooled up to enjoy summer in September? Keep these tips in mind as you enjoy the last bits of warmth.
This post is sponsored by Neutrogena. All opinions are my own.
I suppose that some folks see Labor Day (this weekend!) as the end of the summer. Others might look at September 23rd as the passage of summer into fall. But, really, in lots of places sunshine and warm weather will be with us for awhile.
Our California heat wave/drought feels like it will never end. It was 94 degrees. In my house last week. Believe it or not, it's cooler outside!
The best way to beat the heat is to enjoy it! While the warm weather still lingers, consider these ways that you can enjoy summer in September:
Enjoying Summer in September
Dine Alfresco.
Eating outdoors is a great way to enjoy nature and it really doesn't take away from school or work commitments. You gotta eat, right?
Make a point to plan a picnic, BBQ, or simply eat breakfast outside this weekend.
Take Walks.
I used to go to the gym and walk on the treadmill. When I realized that my kids weren't getting a ton of exercise, I made a change. Now, the littles walk with me throughout our neighborhood three days a week.
We talk and observe the doings of other folks. Several families have put in astroturf since lawns are dying due to water restrictions. Another family has a bright yellow vintage truck with wood sideboards. Very cool.
Take a walk with your kiddos this week and see what's new in your neighborhood.
Have fun.
To read all the back to school posts, one would think that the good times are over. Say it ain't so! Last weekend the kids and I stayed up late watching a movie, popping corn, and pretending we didn't have a care in the world.
Let's take time to enjoy fun things with our kids. Maybe even on school nights, too.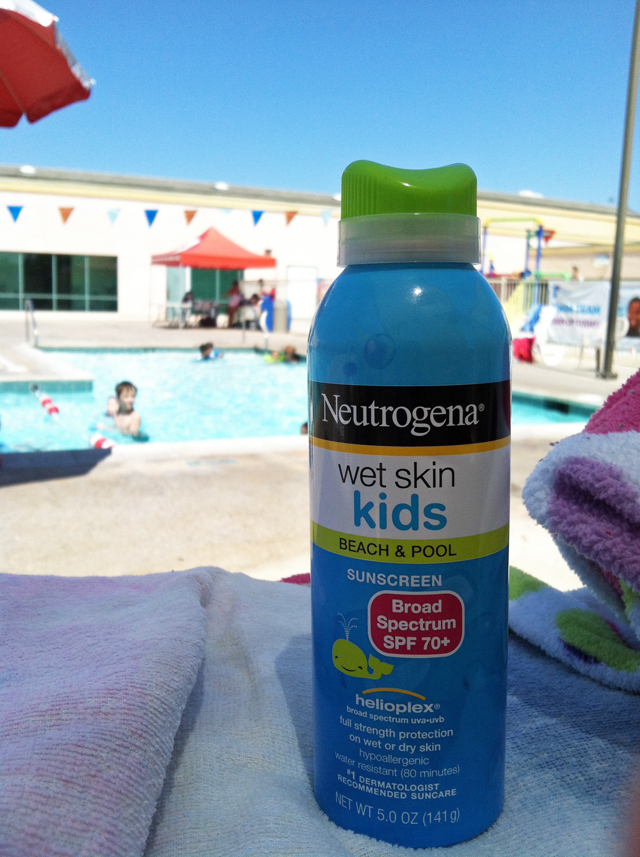 Swim or Splash
We've been heading to the Y in the middle of the day before their swim lessons start. We have the pool to ourselves and enjoy the great weather.
When we lived in Kansas, the city pool closed at Labor Day. That might be the case where you are, but there are still ways to splash around. I smiled when I saw JessieLeigh post these pictures of her kids in the sprinklers. We can't do that with the drought, but I know my kids would love it! So would yours.
Find ways to get wet and wild with water play.
Cover up
While it's great to enjoy the good weather while it lasts, it's super important to wear sun protection. Recently Neutrogena sent us samples of their Wet Skin Kids Lotions and Sprays. We are forever running through sunscreen, so I was thrilled to get reinforcements. The kids got one bad burn this summer and that was enough.
I love that my kids take initiative to cover up when we're getting ready for the pool. The spray sunscreen makes it so easy! This particular product is water resistant for up to 80 minutes AND it goes on wet! I am guilty of forgetting to put on sun protection until after I get in the water. This stuff solves that problem!
From Neutrogena:
Neutrogena® Wet Skin Kids Sunscreen Line is available in lotion, stick, and spray. It's formulated with Helioplex Technology, stabilized sunscreen technologies that deliver superior protection from the sun. It is also oil-free, PABA-free, and hypoallergenic.
Use sun protection so that you can enjoy your time out and about, worry-free.
While summer vacation didn't go exactly as we all expected, we can still enjoy summer in September.
What's your favorite summer in September thing do where YOU live?
This post was sponsored by Neutrogena. I have been provided with free samples and monetary compensation. All opinions are my own.