Life as MOM contributor Janel shares how the Good Cheap Eats cookbook has streamlined her entertaining these past few months.

My life has been hectic for the last six months to say the least. I've had to pack up all our worldly belongings for a cross-country move, unpack said belongings into a new home, unexpectedly switch to homeschooling my kids part-time, and try to run my part-time business from home while managing our home. I'm exhausted just typing all that.
Thankfully, we used to live in this area before we had kids and already had a circle of friends waiting for us when we moved back. This has helped ease the transition. It's also meant that we've been able to jump right into entertaining by inviting old friends over for a meal as well as hosting new neighbors and coworkers.
When it comes to meal planning for entertaining, do you know where I've turned at nearly every opportunity these past few months?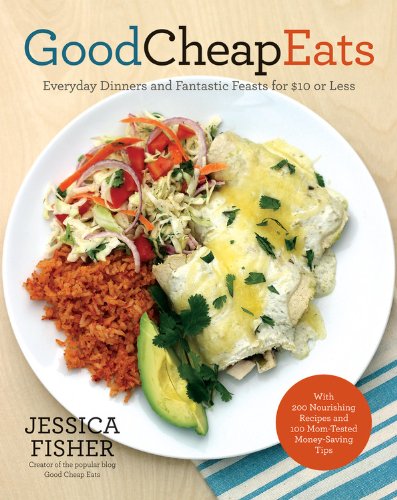 Jessica's cookbook Good Cheap Eats: Everyday Dinners and Fantastic Feasts for $10 or Less has been instrumental in planning my entertaining endeavors. My life is so full with teaching, working, shuttling kids to afterschool activities, and maintaining our household, I really appreciate how this cookbook can do the planning for me.
Since the recipes are organized into full meals, I don't have to waste time figuring out what side dish I want to serve with my main. I just pick a meal, make my shopping list, and then get cooking.
The chapters are also helpful in zeroing in on what type of meal I want to make. If I don't want to spend a ton on meat, I turn to the "Going Meatless" chapter. If my husband is in the mood to grill, I turn to the "Grilling and Eating Outdoors" chapter.
As an added bonus, I use the FREE Wine4.Me App to find the perfect wine to serve with each dish. The food and wine pairing component in the Wine4.Me App includes nearly all of the main dish recipes featured in the Good Cheap Eats cookbook. So, I don't even have to spend much time thinking about wine either. Win, win.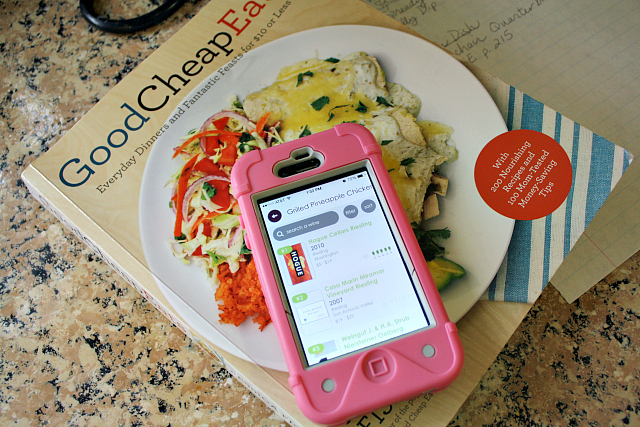 In the past few months, I've served up (and gotten rave reviews) for the following:
Grilled Pineapple Chicken with Asian Vegetable Skewers — This was the first time I tried using Wine4.Me to pair a wine with one of the cookbook's recipes. Total winner — loved the Hogue Riesling with this dish. I particularly love it when my husband can grill something when we entertain — it satisfies my need to prep-ahead and his need to be "doing something" when guests are over.
Fired Up Chili Bean Soup with Cheesy Jalapeno Cornbread – This was a super easy, meatless main dish — I just dumped it all in the crockpot earlier in the day, and it stayed nice and warm until serving time. It was perfect for a casual meal with good friends.
Spready Cheese, Dilly Dip for Vegetables, and Armchair Quarterback Chili – When we invited a lot of people over for a celebration for my husband and didn't know exactly how many people would show up, I made this menu and supplemented it with Spicy Southwest Chicken and Teriyaki Chicken Skewers from Jessica's make-ahead freezer meal cookbook. The Dilly Dip and Spready Cheese were quick appetizers to prepare and the chili stayed warm throughout the party on the buffet table. It worked out perfectly, and of course the additional chicken was a hit too.
In the past few months, Good Cheap Eats has earned its space on my cookbook shelf. I will definitely be using it more in the coming months, both for entertaining and family dinners.
What's your go-to recipe, cookbook, or magazine when you're going to entertain?

– Janel is a stay-at-home mom of two daughters and a former "law school wife" in California. Raised in a budget-conscious and DIY-minded family, she blogs about motherhood, crafts, and living on a budget at Life with Lucie and Ella. You can read all of Janel's Life as MOM posts here.