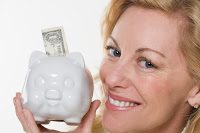 As I have mentioned plenty of times before, we are the road to living debt-free. It has been a long road, at times very discouraging when it didn't feel like we were making any headway. But, God has been so gracious to us! We know He controls the whole universe, but it's an amazing thing to see this work itself out in our lives, and specifically our debt.
In fact, last night FishPapa and I had our "money meeting for August" and were pleased to find out that we've lowered our debt from $16,000 last June to $2,000 next month! To God be the Glory!
We are thankful, not only for this improvement in our financial situation, but also for the change in our habits. God is helping us rethink MONEY and that, my friends, is a good thing.
This transformation is, in part, due to things we've learned from wise people like Dave Ramsey and Money Saving Mom.
And since I'm all about "sharing the wealth," I want to let you know that deals are screaming your name over at Money Saving Mom's. She is having a Big Summer Blowout Sale starting today (Wednesday). Crystal is offering an incredible ebook package including over $100 worth of money-saving ebooks, homemaking helps, and encouragement for only $5.97!
What makes this deal so good is that this ebook package includes the ecourse Supermarket Savings 101. This course alone is worth much more than $5.97 and will teach you how to drastically reduce your grocery bill. The low, low price is only good today! It will increase incrementally each day for the rest of the week.
So check it out here!