Extracurricular Activities to Supplement Academics
We are a participant in the Amazon Services LLC Associates Program, an affiliate advertising program designed to provide a means for us to earn fees by linking to Amazon.com and affiliated sites. We participate in other affiliate programs as well. For more details, please see our disclosure policy.
The following is written by Life as MOM contributor, JessieLeigh: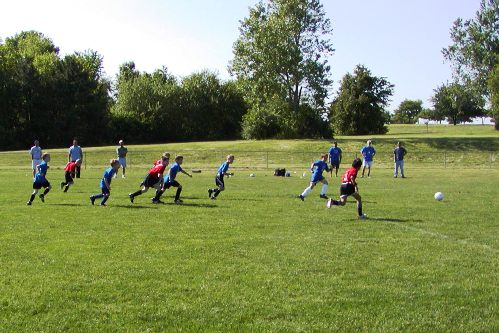 We all know one of "those families"– the ones who have their children's lives so full and micro-managed that there's not a single spare moment to breathe or relax. I definitely do not advocate over-scheduling little ones. I'm a firm believer in family-time, down-time, and prayer time. That being said, I do think that it's possible to enrich your child's school years through some carefully selected extracurricular activities.
Here are three broad categories to consider as you navigate the options:
Team Sports
Baseball, softball, basketball, football, soccer, and many others fall in this camp. Even preschool aged children can join many t-ball or youth soccer leagues. Not only do these sports help keep children healthy and active, but team sports also help your child work on teamwork, trusting, cooperation, turn-taking, and sportsmanship.
These activities require lots of interaction with other children and they help little ones learn to win, and lose, gracefully. A team sport helps teach young ones to cheer for one another and make choices that benefit the whole team rather than just the individual. Seeing a child choose to bunt the ball and take an out in order to bring his teammate home is truly a lovely thing!
Individual Sports
Sports like swimming, ballet, and the martial arts are often practiced as a group, but focus more on individual growth and development. As a child moves up the ranks from white to black belt, she is primarily competing against herself.
While swim teams and dance teams certainly exist, these are sports that can easily be practiced and developed individually. These teach independence, self-awareness, and self-confidence. A child's success or lack there-of will rest, for the most part, on her own shoulder's. There is a lot of responsibility in that. Like team sports, individual sports are wonderful for their role in keeping children strong, healthy, and active.

The Arts
While most schools do include Art and Music in their subject line-ups, extracurricular activities provide the opportunity to delve deeper and specialize more. Taking a painting class or studying the violin allows a child to explore his creative side.
Some children thrive on the almost mathematical nature of music (where there is a "right" answer/method) while others prefer total freedom and abandon in how they share their art. Either way, learning an instrument, being part of a chorus, or doing extra art work can help a child explore another side of learning and experience the joy of creating something all his own.
For our family, we try to limit each child to one or two activities at a time and, if they're involved in more than one, we like to see them come from two different categories. They're young yet, and practice times tend to minimal, so that's what has worked for us, thus-far. For now, we find that our children still have plenty of time leftover to relax and rest-up.
What do YOU do?
Are your children involved in extracurricular activities? What are their favorites and why?

— JessieLeigh is the mother of a former 24-week micropreemie and two full-term blessings as well. She is a determined advocate for the tiniest of babies, including the unborn, and a firm believer in faith and miracles. She shares about raising such a precious, tiny baby over at Parenting the Tiniest of Miracles.