Fall into Fun!
We are a participant in the Amazon Services LLC Associates Program, an affiliate advertising program designed to provide a means for us to earn fees by linking to Amazon.com and affiliated sites. We participate in other affiliate programs as well. For more details, please see our disclosure policy.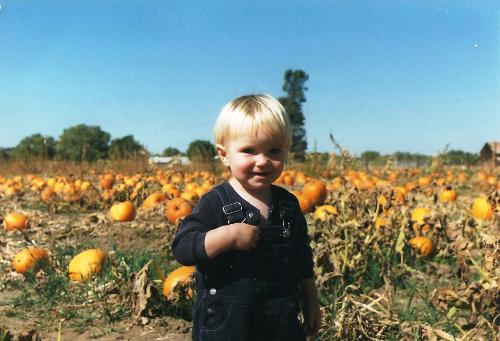 Fall officially begins in just a few days. Some of us are still sweating as summer temps continue, but I've heard tell that some areas of the continent are starting to cool off. Yeah for Fall!
It is my very favorite time of year and one of the things that I miss most about living in Kansas. The trees don't turn colors in as vibrant a way in San Diego. And someday I'll visit New England and see what Autumn really looks like.
That's my big boy, up there, thirteen years ago. He was just over a year when we took him to the pumpkin patch. I can't believe how quickly time passes. Enjoy it, ladies!
Get ready for the change of seasons.
Here are some good reads from the archives that will help you get in the mood for Fall:
Your time

Your meals
Your home
And if you're on Pinterest, no doubt you've been inspired by all kinds of eye candy. I'm bookmarking new fun things to do on a board just for Fall ideas.
What do YOU love about Fall?