Fall Traditions: How 'Bout Them Apples?
We are a participant in the Amazon Services LLC Associates Program, an affiliate advertising program designed to provide a means for us to earn fees by linking to Amazon.com and affiliated sites. We participate in other affiliate programs as well. For more details, please see our disclosure policy.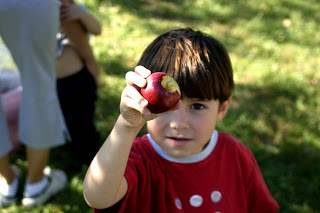 Probably my very favorite part about fall (besides Thanksgiving) is the apples. There's nothing like a cold, crisp, sweet, juicy apple to sink your teeth into. Yum!
Years ago when I was a svelte, young mother of one, we lived on the Central Coast of California, close to the beach, yet cool enough in winter time that the apples could thrive. It was there that we discovered that there were more apples than just red and golden delicious AND that even those apples could taste really, really good — if you bought them from the grower and not the grocer.
There were two places that we frequently visited back in those days: Cider Creek where they made fantastic Apple Crowns with homemade caramel syrup and Gopher Glen where they grew 90+ varieties of apples and let you taste whatever was available that day. I've missed those places in the past few years and can't wait until the dust settles from our move. Then we can take a little road trip and come home with 40-80 pounds of apples!
And that is one of my favorite traditions in fall — stocking up on apples. Even though we haven't lived near Gopher Glen in several years, we've made it a regular practice to find a good source of apples each fall. I know that I go through more than 40 pounds of apples each year. We eat them fresh; we have apple tasting contests; we make apple crowns; we bake apple pies.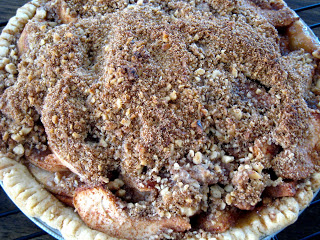 In fact, with a deep freeze I try to make at least a dozen pies to store for those random winter nights when pie sounds really good but I don't want to do the work to make one. This is super easy to do. I usually make four at a time and can do it in about an hour. I make my mom's apple pie, wrap each with foil, label, and freeze without baking. Then when I'm ready to bake, I put the frozen pie in the oven at 425 for 15 minutes, then reduce to 375 for the remainder of the cooking time.
This is a must do for fall! You will be so pleased with yourself when you can present family or guests with a fresh baked pie without breaking a sweat. And it definitely takes a load off come Thanksgiving.
If you don't have an apple pie recipe to write home about, try my mom's — because it is. My Gramma John was a great baker. But, I think my mom is, too. She took Gramma John's recipe and made it her own by adding nuts, almond extract, and lots of cinnamon. Grams often gets the credit, but it was my mom who baked her recipes for us. So, try Nanna's Apple Pie and tell me what you think!

What are some special fall traditions in your family?
Share them at today's "Fall Festival — the Traditions Edition" over at Simply Sugar and Gluten Free. Amy won't mind if your tradition has sugar or gluten (mine does!) and she's giving away some great Wilton Baking Racks to one lucky participant.