Fall Wardrobe Essentials
We are a participant in the Amazon Services LLC Associates Program, an affiliate advertising program designed to provide a means for us to earn fees by linking to Amazon.com and affiliated sites. We participate in other affiliate programs as well. For more details, please see our disclosure policy.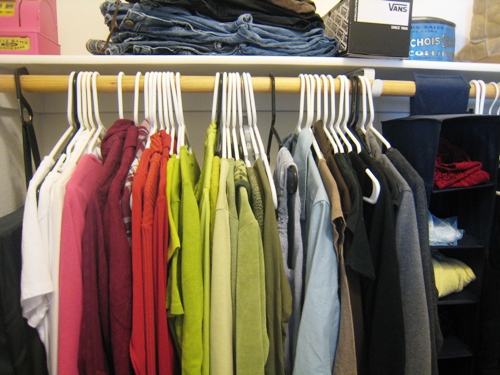 I was pregnant with my 4th child, sitting in a McDonald's playland, watching my older three boys play. I looked around me, eager to meet a friendly face in the new community we had moved to. The other moms were much more fashionable than I, lots of leather, make-up, and salon hair styles. Who knew that was what I was moving to in Kansas City?
This California girl was woefully out of place. 
I glanced down at my own clothes and saw that my maternity shirt sported a number of stains. And the pants? They were threadbare! I could see glimpses of my skin through the fabric. I was mortified.
I share this vignette for a number of reasons:
1. It's easy to get so caught up in the busy-ness of life and keeping children fed and clothed, that we moms forget to look out for ourselves and our wardrobes. I get that. There are seasons for everything. Sometimes we're lucky to get a shower. But, that doesn't mean we shouldn't try.
2. While I didn't feel a need to keep up with the Jones girls in that kiddie playland, I found that I had gone below some basic standards for myself. Stains and holey pants? How did I get here?
3. Pregnant women need some nice clothes. My husband read this rule in a marriage book long ago, and the lesson stuck. It wasn't his fault that my clothes were shabby. I had simply neglected myself. And any pregnant woman knows that growing a baby is hard enough without having to worry about what to wear.
4. While I don't think that we need to (or even should) spend a lot of time or money on our clothing, I do think there's some truth in "clothes make the woman." If you feel good in what you're wearing, your attitude, productivity, and disposition usually follow.
That's why it's important to have a wardrobe that works for you.

Finding the Basics
A few months ago I recounted my wardrobe debate as well as the outcome: making a mix and match wardrobe. If you'll remember Hallie from Bloom Personal Shoppping helped me find a few key pieces that I love.
Recently Hallie and I talked about how to transition into a fall wardrobe. I pulled out all my clothes, not just the summer ones, and sent her picture after picture to critique. My question for her: What are the basics that we could have in our wardrobes to build a mix-and-match wardrobe?
Here are some of the fall wardrobe essentials Hallie recommends:
Jeans – Every woman should have at least one pair of jeans that are comfortable and that make her feel beautiful and confident. They're like a loyal friend. They'll never let you down no matter what the circumstances!

Warm Slacks – A pair of heavier weight, nice slacks is a Fall must-have. I happen to love wool but tweed, velvet, or even a very fine flannel are also good options.

Button-Up T-Shirt – I love button-up shirts. They can be worn underneath cardigans, pull-over sweaters, sweater vests, or all on their own. Plus, they look just as fantastic with an adorable pair of casual pants as they do with a stunning skirt.

Long-Sleeved T-Shirt – T-shirts have a reputation for being uber-casual but if you can find one made out of high quality cotton with a cute neckline you can dress it up or down making it a very versatile piece.

Skirt – Skirts are another item of clothing that I love for their versatility. You can pair them with a cute pair of colored or textured tights and boots for a fun, funky look, or hosiery and heels for a more elegant look.

Little Black Dress – If you don't have a LBD that makes you feel like a million bucks stop everything and start searching. You deserve it.

Cardigan – This is a must-have if there ever was one. Cardigans can be paired with a matching shell, a camisole, a blouse, or a t-shirt. Slipping one on over your lighter-weight tees or tanks is a great way to transition your warmer weather wear into the cooler months.

Coat – I happen to love Pea Coats, but there are endless styles of cute coats to pick from. Just make sure that at least one of your coats is in a neutral shade so that it can be paired with anything and everything.

Boots – Ankle, mid-calf, knee-high, high-heeled or no, take your pick but–as with a coat–try to choose a basic color.

Tights – I adore tights. They allow me to wear skirts and dresses during the chilly months without getting cold and the wide varieties of colors, materials, and textures available make it easy to create a lot of different looks out of just a few basic pieces of clothing.

Scarves, Hats and Gloves – Keep your eye out for these accessories in your favorite colors and in playful patterns. If most of your Fall staples are in neutral colors, accessories are a fantastic way to add a splash of color!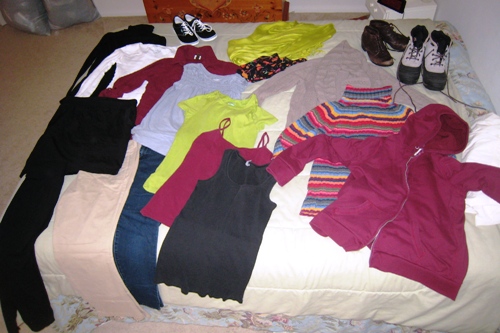 I consulted my friend the Closet and here's what we came up with, based on Hallie's advice. In fact, this is what I packed for a week in the mountains.
Jeans – I have one pair of Levi's that I really love, dark rinse, skinnier leg. I'm contemplating dying some more faded pairs to give them new life.
Warm slacks – I found a pair of khakis on clearance at old navy. Even though they are "short",  I still need to find a belt to keep them in the right spot.
Button up shirt – In my pinning, I found that I was drawn to white button-ups. Hallie found me a few great ones. I'm waiting for a great sale to make the purchase. In the meantime, I have a cranberry button-up that I love to pair with the cranberry camisole.
Long sleeve tshirt – I have several, but the two I packed on vacation were a black turtleneck and a white boatneck. I have several short sleeved shirts to use on warmer days as well.
Skirt – Hallie helped me find the black knit skirt in the picture. You'll recognize it from our summer shopping trip. Love it!
Little black dress (not pictured) – A carry over from my summer wardrobe to be paired with tights and a sweater.
Cardigan – I love sweaters! I have three cardigans (black, green, and mocha). The mocha is my favorite. I also have a few pullovers in green, red, and striped. Believe it or not, two of them are maternity that I still use!
Coat  (not pictured) – I have a black wool pea coat from our Kansas days. Love it!
Boots – Just a few short years ago, short boots were not cool. But, if you keep something long enough, it'll come back around. My brown boots, though in need of a polishing, are holding strong and look great with many of these pieces. (The snow boots are just for the snow.)
Tights – I mainly have black, but I'm thinking of testing out some of these ideas that Hallie suggests.
Scarves, Hats, and Gloves – I have a vast collection of scarves, just waiting for the weather to get a little cooler. Two are pictured, green and black. Black knit cap and a blue rain hat can top my head. And black leather gloves are my choice. Yes, even in San Diego.
Most of us prefer to have more than a dozen pieces of clothing. But, when push comes to shove, we really don't need a lot more. It's amazing what you can mix and match – and look great.
I'm not saying you should ditch all your clothes. I am saying, "go shop your closet." I feel so much more energized and happier with my clothes now that I've cleaned the closet, ditched the things I dislike, and been a little more intentional about what I wear. I want to avoid that shabby feeling whenever possible.
How 'bout you?
What are your fall wardrobe essentials?