Falling for Fun: 5 Great Read Alouds
We are a participant in the Amazon Services LLC Associates Program, an affiliate advertising program designed to provide a means for us to earn fees by linking to Amazon.com and affiliated sites. We participate in other affiliate programs as well. For more details, please see our disclosure policy.
When FishBoy12 was a wee lad, I invested a small fortune in Scholastic books. While it may not have been the wisest financial decision at the time, we have more than got our money's worth out of this little library we built of great read-alouds. And some of the most well-loved in the bunch are those about Autumn.
I used to store the seasonal books until their proper time. Somehow we've gotten away from that and I am always surprised when someone hands me White Snow, Bright Snow in the middle of July. Now that we're moving and getting a fresh start, I think I'll go back to my old ways.
Here are five of our favorite Fall-themed read alouds: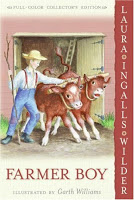 Farmer Boy – FishPapa absolutely loves this book by Laura Ingalls Wilder. When our oldest was three and four we read through the series for the first time with me reading and FishBoy listening. FishPapa was hooked into the book, particularly when some teenagers we knew reminisced about how hungry this book made them.
'Tis true, Almanzo's mom sure knew how to cook. We never grow old of this story, though I have had to convince the older boys that it is NOT a girly book. And it always makes me want to eat popcorn and apples.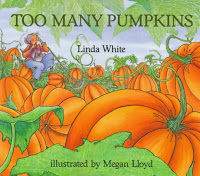 Too Many Pumpkins by Linda White is a delightful book that we discovered in the library back when the oldest FishBoy was about two. It has since made its way into our home library.
It recounts the story of Rebecca Estelle, an elderly woman who detests pumpkin because when she was a girl in the Depression that was all her family had to eat for weeks on end. She vowed never to even touch a pumpkin until one day the pumpkin truck drops one by mistake into her front yard.
Hilarious antics ensue in the rest of this heartwarming story. And you may find yourself craving all kinds of pumpkin treats by the time you're done.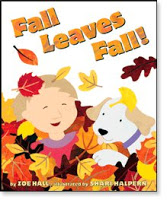 Fall Leaves Fall by Zoe Hall features two brothers and their fall activities. The illustrations appear to be a paper collage of sorts that are quite enchanting. Paper crafters will definitely appreciate the art while kids will easily relate to the story.
It's a simple story, but my littles never grow tired of it.
A fun extension activity would be to make your own paper leaf collage.
Why Do Leaves Change Color? by Betsy Maestro is part of the "Let's Read and Find Out" Science series. I love these books. I don't think I've ever read one that disappointed.
And Betsy Maestro is a prolific children's writer. We've enjoyed all her books that we've read. This one explains the science behind the changing of the colors in a way that helps young children grasp the concept.
Read the book and then head out on a nature walk to collect leaves.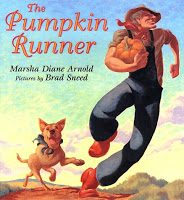 The Pumpkin Runner by Marsha Diane Arnold is a cute story set in Australia which tells of a man running a foot race, fueled by the pumpkin he munches along the way. The story was inspired by a true event and is one that my oldest son remembers vividly though it's been years since he last read it.
We did end up trying uncooked pumpkin and were a little perplexed as to HOW it could possibly provide running fuel.
Got a favorite Fall-themed read aloud?
I'd love to hear it! We're always looking for new stories to entertain kid and mom alike.

How do you and your family amuse yourselves as the seasons change? What special activities do you do with the kids, what movies do you watch, Any fall-ish crafts, games, field trips, great vacation spots, or books to read? Tell us some great ways to kick up our heels at Daily Dwelling.
All week long, the hostesses of the Fall Festival are giving away some goodies. Today, you have a chance to win a copy of Amanda Blake Soule's book The Creative Family: How to Encourage Imagination and Nurture Family Connections. Hop over to Daily Dwelling and share your bright ideas.
— And don't forget to visit Works for Me Wednesday.