Apple crowns are a fun and healthier alternative to ice cream sundaes. Make them this fall for a fun dessert for the whole family.
Apple Crowns have been an autumn tradition in our family since we first moved to Paso Robles in 1998. We discovered them at a roadside specialty shop on Highway 46 heading west to Cambria. Crisp fall apples, sliced and doused with caramel sauce and topped with whipped cream, nuts, and a cherry were a fabulous snack to indulge in.
We've lived in several towns since then, but we've carried the Apple Crown tradition with us wherever we go. It's simple and easy and the kids love it. You will, too.
As you can see I omitted the nuts. They're verboten in my house until FishChick5's allergy testing happens later this week. You could use dried cranberries or raisins or sunflower seeds if you want a nut-free alternative for topping.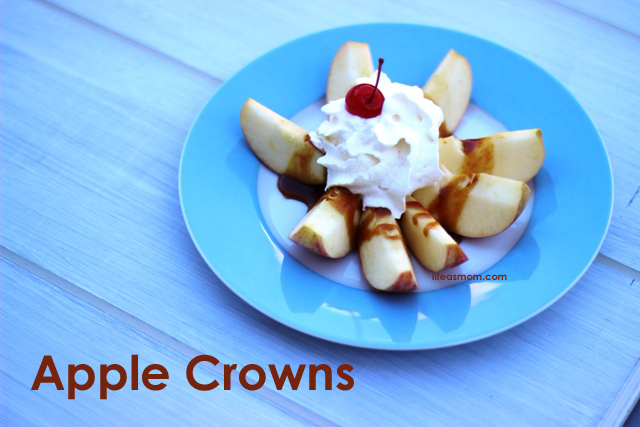 You can make your own whipped cream — I used this recipe for Maple-Whipped Cream — and your own caramel sauce to make it a little less processed. I leaned on Trader Joe's for the caramel because their Fleur de Sel Caramel is amazing. (Try it in your coffee this week! Superyum!)
Your kids will probably be happy to eat several apples at a sitting when served this way, so consider how loaded you make them. I prefer these to be made with sweet-tart apples to counteract the sweet of the caramel. (I put very little maple in my whipped cream, so the cream helps cut the sweet, too.)
Choose organic apples if you can swing it since conventional are on the Dirty Dozen list. My target price on apples is $1/pound, though I will go as high as $1.50 if they are organic. Watch for sales and stock up.
Apple Crowns are fun and festive which makes them a super simple dessert to serve when you've got folks over for dinner. So easy and "superyum" as we say around here.
Some of our favorite apple desserts:
Slab Apple Pie
Nanna's Apple Pie
Oven Pancake with Cinnamon Apples
Crockpot Applesauce
Tools to make this recipe easier:
Apple corer
Apple corer/slicer
Apple Crowns
Apple crowns are a fun and healthier alternative to ice cream sundaes. Make them this fall for a fun dessert for the whole family.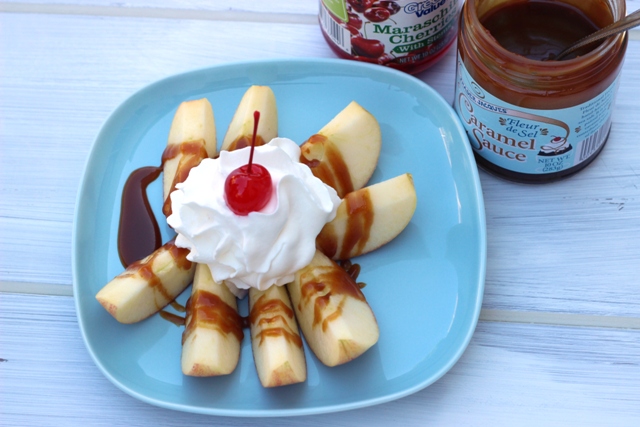 Preparation Time:10 minutes
Cook time:0 minutes
Total time:10 minutes
1 serving
Ingredients:
1 apple, cored and sliced

1 tablespoon caramel sauce

2 tablespoons maple whipped cream

1 teaspoon chopped nuts, optional

1 marashino cherry
Instructions:

Place the apple slices in a circle on a serving dish. If you use an apple slicer (the kind that cuts it into wedges and removes the core), you can slice it right on the plate, remove the core and proceed.
Drizzle the caramel sauce around the crown. Place the whipped cream in the center.
Sprinkle the nuts over all.
Top with a cherry.
Ready to fall for fun?
This post is part of the DIY on a Dime: Falling for Fun series. Check it out for all kinds of budget-friendly, family fun ideas to celebrate one of the most beautiful seasons of the year.