Our Falling for Fun series continues with a great idea from guest poster, Kelly. Head out to your local high school football game this weekened and make it a family event.
If you're at all like me, when you start listing fall activities for the family, you think of pumpkin patches and hay rides. You look for cheaper days to go to the zoo and enjoy the cooler temperatures, or you stock up on firewood and s'more-making supplies for an evening bonfire.
But have you considered catching a Friday night football game at the local high school?
Even if you don't have a football-loving family, the atmosphere at a high school gridiron is electric. The entire experience offers exciting sights and sounds (and nachos), and general admission tickets are relatively cheap, especially at smaller schools.
I married a band director, so our family spends most Friday nights in the fall at a football stadium. My children love spending time at Dad's games. In fact, if my three-year-old sees football on television, she says, "Look, Mom! Dad's band!"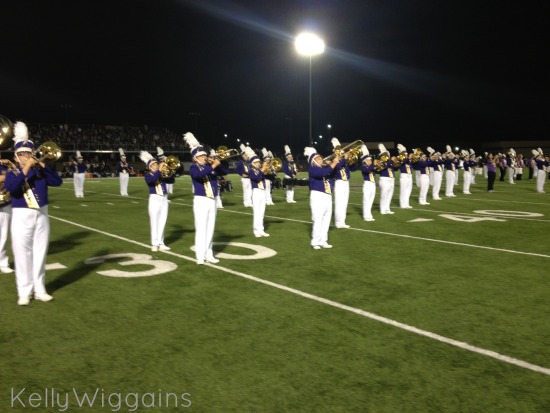 The section by the band is always the most fun. The drum lines battle each other across the field while the players and color guard dance to the beat, and then the full band plays music to get the crowd up and cheering for the team. Of course, halftime is the pinnacle of the game for our family, featuring great music as well as colorful flags and props.
My kids enjoy watching the game, but they also try to catch a free football or t-shirt thrown by the cheerleaders after a touchdown. They dance and sing to the music, and they laugh at the mascot's antics. They learn to cheer for first downs and jump and scream for every point scored. They save up their allowance money to enjoy a treat from the concession stand, too.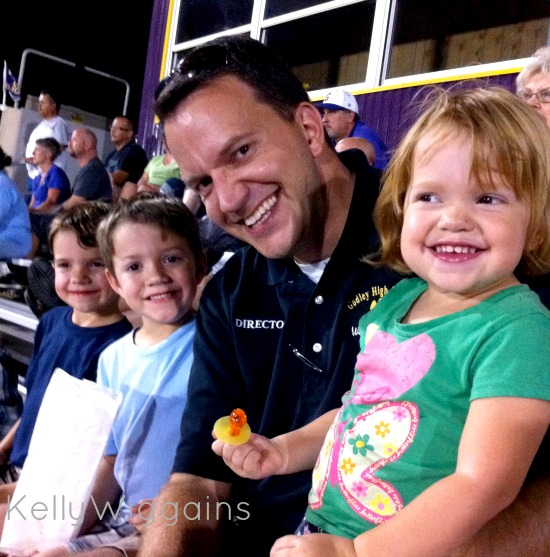 Of course, the price breakdown will vary, depending on the area. Gate prices at our school are $5 for adults and $3 for students (children 5 and under are free). Parking is free, and the concession stand has $1 popcorn. We leave the night spending well under $20.
Things to consider when heading out for Friday Night Football:
Bring Cash
This is the easiest way to buy tickets at the gate, a program if you want it, and a Frito pie at the concession stand.
Pack a Bag
I always stock a backpack with wipes, water bottles, a few snacks, a plastic grocery bag (for easy clean up), an umbrella, and a light blanket.
Plan ahead
Find game schedules, times, and ticket costs on the school district's website.
Arrive early
Arrive at the game well before kick off. You have more time to find a seat, and you get a better parking spot. Plus, you can scope out the stadium and make everyone go to the bathroom before getting settled.
Find a football stadium near you and catch the spirit of fall with your family!
What's YOUR experience with taking the fam to a football game?
— Kelly Wiggains blogs about everything From Literature to Living. An English teacher by trade, Kelly left the classroom a few years ago, but she still tries to convince those around her to read and write. She loves to connect her reading to the real world around her. Her blog is a place for book lovers and book skeptics alike, offering concise book recommendations, tips for reluctant readers, along with stories and observations about her life. She writes at KellyWiggains.com.
Ready to fall for fun?
This post is part of the DIY on a Dime: Falling for Fun series. Check it out for all kinds of budget-friendly, family fun ideas to celebrate one of the most beautiful seasons of the year.