Falling for Fun: Using the Whole Pumpkin
We are a participant in the Amazon Services LLC Associates Program, an affiliate advertising program designed to provide a means for us to earn fees by linking to Amazon.com and affiliated sites. We participate in other affiliate programs as well. For more details, please see our disclosure policy.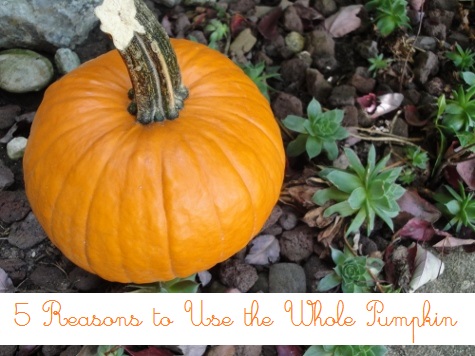 All photos: Katie Kimball of Kitchen Stewardship
I see food on just about every porch I pass this time of year.
You'd think I was starving or pregnant, with visions of vittles dancing in my head, but no – I just recognize the "decorative" pumpkins people have adorning their doorsteps for what they are: pie pumpkins (or close enough!).
When it hits early November, I have to stop myself from knocking on doors and asking, "Would you like me to take that little pumpkin off your hands before you toss it in the trash?"
I hate the thought of all that wasted food when it's so easy to use the whole pumpkin, no matter what kind you have.
5 Reasons to Use the Whole Pumpkin: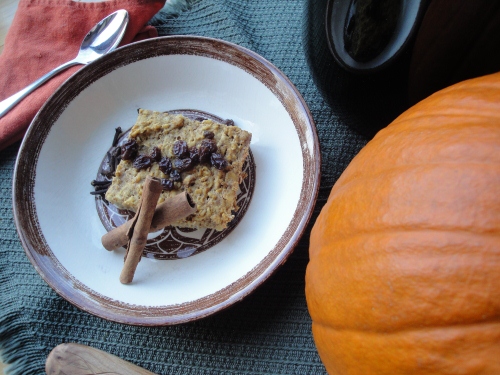 1. Pumpkin is healthy!
This time of year, the blogosphere is rife with pumpkin recipes. Whether you like pumpkin pie or not (my husband will not eat a mushy orange vegetable in mushy form to save his life), there are ways to use pumpkin that everyone in your family will love.
Why?
Before "superfoods" only included exotic items from far-off rainforests, many used to deem pumpkin as a super food because of its power-packed nutrients. Pumpkin is a great source of Vitamin A, magnesium, potassium, carotenoids (for eyes) and fiber. Your kids (and your budget) might not go for "goji berries" or "acai" whatever, but a pumpkin muffin probably isn't too much of a hard sell. 😉

Here are some super easy kid-friendly recipes that will get you thinking about pumpkin beyond October:
2. The real thing tastes better than canned.
A dear friend of mine tried to convince me years ago that there's nothing like using "real" pumpkin, as in home-pureed, in just about any recipe. She wouldn't even touch canned pumpkin, but I was a hold-out for a very long time. I didn't think it was worth taking the time (canned pumpkin was less expensive back then, especially in October when I would stock up), and the first time I tried it, it took half an hour and a hacksaw with my husband's help just to cut through the darn thing. I swore I'd never roast my own again, and now I'm telling you that you should.
Why is that?
Because my friend was right. It DOES taste better. It's actually quite a significant difference. Not only is home-pureed pumpkin lighter in flavor, but it's naturally sweeter, too, which allows you to cut down on the sweetener you use in any recipe. In our family's favorite pumpkin cookie recipe, I have gotten down to just a half cup of honey for five dozen cookies, and they are a hit in any circle.
3. It's frugal.
Grabbing a few pumpkins this fall (especially if you hit up your decorative neighbors) is going to be much less expensive than all the cans, even if you stock up on sale. In Michigan at least, we can get a small pumpkin for a buck or two, and that will make many cups of puree (8-12 at least) which is equivalent to 4-5 small cans. No contest when you're watching your budget.
4. It's easy to freeze.
In fact, baking a pumpkin is easy from start to finish (now that I know how to cut through the tough ones). You can see my method here.
If you have an immersion blender (also called a stick blender), that makes it even quicker and also a kid-friendly activity. My kids love working the stick blender starting at about age 3 or 4 with my help, and by age 5 or 6 they're manning it themselves. Whizzing up some pumpkin puree that you scoop out of the shell after baking is a really fun and fairly risk-free activity for kids (i.e. it's hard to mess it up).
I recommend freezing pumpkin in 4-cup quantities in a quart bag. They lay nice and flat and have an added bonus of encouraging you to use this super healthy food all year long, because it's there (and it's not frugal to waste).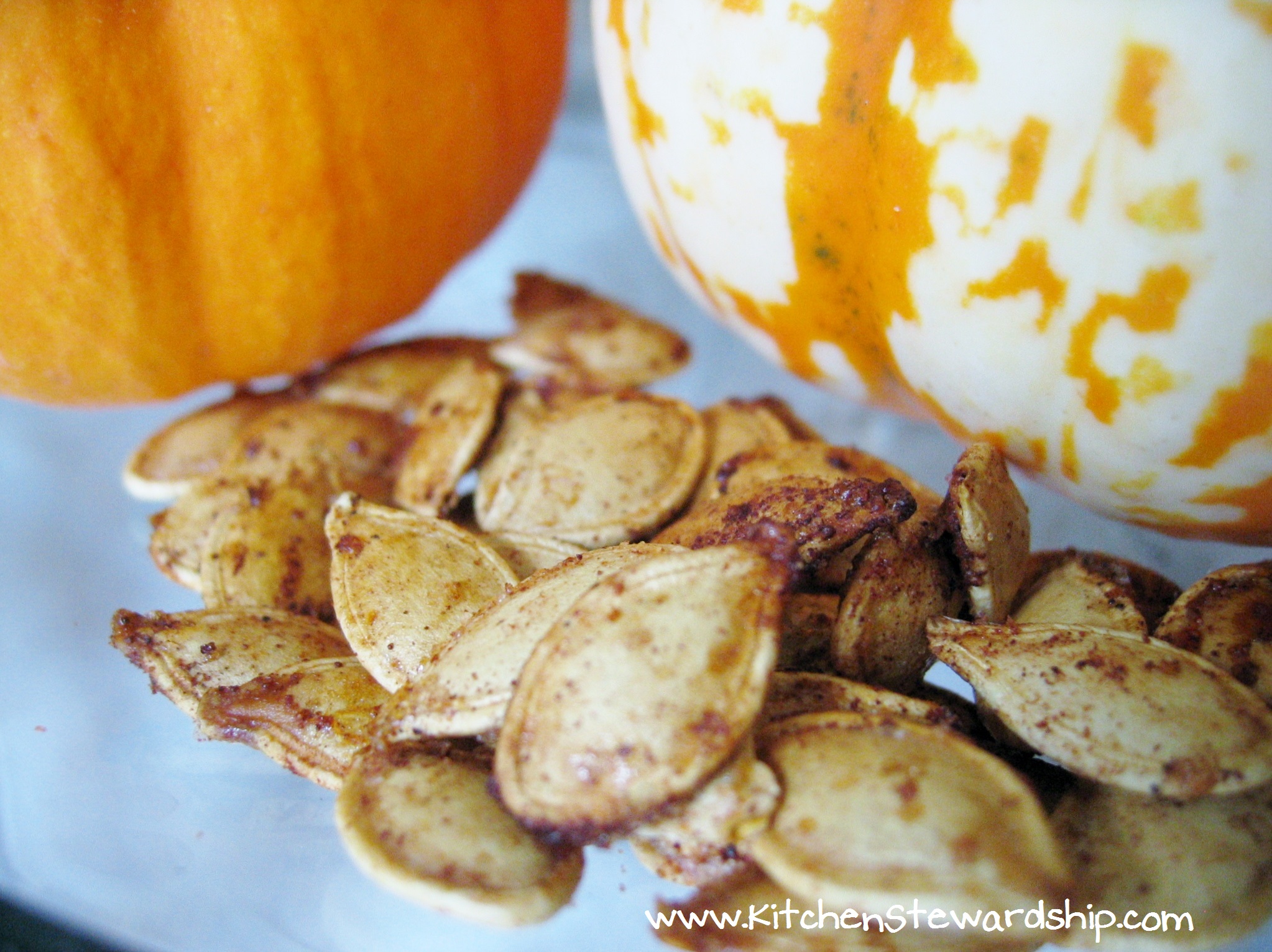 5. Pumpkin seeds.
Have you priced pumpkin seeds lately? Oy!
It's nothing to drop $5 and more on an 8-ounce bag, and they're so easy to make that they should not be relegated to once a year when you carve jack-o-lanterns.
High in zinc, healthy fats, magnesium and protein (7g/ounce), pumpkin seeds are a super food in themselves, and we try to have them on hand for snacking and trail mixes for at least 4 months of the year.
If you don't know how to make pumpkin seeds, follow the link for my easy tutorial on more easily digestible spiced pumpkin seeds. They're so yummy, and you can also use the same method for many squash seeds, as long as they're flat in shape. Even if you don't like pumpkin or can't freeze it all, you should harvest the seeds from any pumpkin you have gracing your porch as decoration.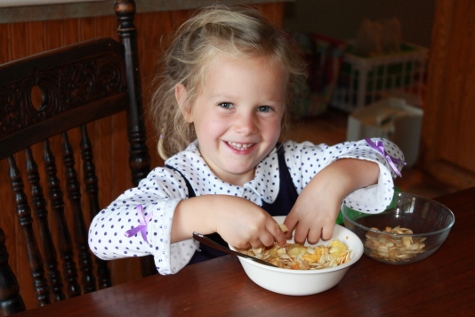 I like to think of jobs my kids can do that will actually speed up my time in the kitchen (since often training them to help slows me down at first – but is of course an investment in their knowledge base for later). Separating the seeds from the goo is a great one, and for kids who like getting messy, a mess with permission is a great gift.
Can You Use the Jack-o-lantern?
While the large carving pumpkins are not pie pumpkins, that doesn't mean they don't have health benefits. They're still chock full of nutrients; they just aren't as sweet as pie pumpkins, but I find that they're still delicious in savory recipes, including the pancakes above.
I would only use the actual jack-o-lantern if you carved it the day of Halloween and harvested it that night – or if it was really cold and you did it the next day! 😉 Alternatively, instead of carving your pumpkins, draw or paint faces instead. Then you can definitely harvest the insides post-Halloween.
Is There Food on Your Porch?
I hope I've inspired some foraging today – just knock first before you harvest other people's pumpkins from their porches, m'kay?
Grab a pumpkin, a kid, and a good recipe and get baking!
What side are you on – canned or DIY?
Katie Kimball is a mother of three who spends a ton of time in the kitchen making real food with whole ingredients and then blogs about her successes and failures at Kitchen Stewardship. She also tries to balance the green lifestyle on a single-income family budget and teaches others to do the same with weekly Monday Mission challenges. Katie is the author of six eBooks.
Ready to fall for fun?

This post is part of the DIY on a Dime: Falling for Fun series. Check it out for all kinds of budget-friendly, family fun ideas to celebrate one of the most beautiful seasons of the year.