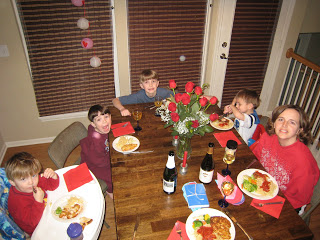 Today just happens to be
Family Day
, don't ya know?
My son saw it advertised on the grocery store ad and inquired what it was. Basically, it's "a day to eat dinner with your children." The movement is based on research that suggests that the family who eats together does better in everything else- family dynamics, schoolwork, healthy habits, and particularly, low substance abuse.
Of course, when I explained the eating dinner together part to my son, age 11, he shrugged his shoulders and said, "We do that every night."
It's true. We do dine together almost every evening. Some nights are less chaotic than others. Some nights FishPapa and I are more intentional in our conversation with the children.
Some nights are just plain survival.
So, even though, by the letter of the law, we do eat dinner together on a regular basis, an event like this is a great reminder to stop and smell the roses, to be purposeful in talking with my kids, to make this night a little more special.
(In light of moving this week, I will
not
be pulling out all the stops as I did on a recent Valentine's Day, as pictured above. But, quality time doesn't have to be "fancy," does it? Instead, we're going to picnic on the floor somewhere, eat off paper plates and devour whatevers left in the frig. This also includes the remnants of four containers of ice cream. So, hey, not too bad, after all!)
Whaddya think? Are you up for the challenge?
For more information, check out
* Miriam Weinstein's book, The Surprising Power of Family Meals: How Eating Together Makes Us Smarter, Stronger, Happier, Healthier
* This post by A Busy Mom of Two for more ideas on how to spend some quality time with the fam for Family Day.
* This Family Day Dinner Kit complete with activities, recipes, and conversation starters.
* I'm an Organizing Junkie for Meal Planning inspiration.