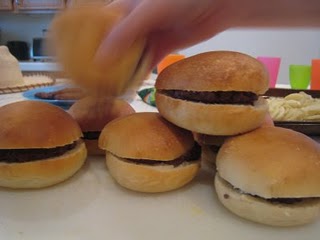 Mary Ostyn is my hero. Well, one of them anyway. I haven't read her blog, Owlhaven, for long, but I've read both her books over the last year. Reading A Sane Woman's Guide to Raising a Large Family came at a time when I was feeling quite overwhelmed by the immensities of my "life as MOM" while Family Feasts for $75 a Week proved to be just the right resource I needed to be reminded of frugal ways to feed my family. I've been so encouraged by this mom of ten children, four by genetics, six by adoption, all by God. I am so excited that she's hopped on board our freezer cooking days with this guest post. (Cookbook giveaway coming soon — pass it on.)
There's a factor that's not often discussed when it comes to saving money on food. It's the psych factor. When I grab a pizza on the way home from soccer, or succumb to deli food at the tail end of grocery shopping, it's often because the psych factor has gotten me. For whatever reason, cooking at home just feels like too much work that evening. So I give in to convenience food.
We all buy convenience food impulsively at times. Done occasionally it's not the end of the world. But frequently? Not so good for the pocketbook. Finding ways to psych yourself out of impulse buys will net you big savings.
Start by noticing your weak moments. Do you answer the siren call of the Panda (Express) on soccer nights? Does deli chicken win when you work late? Does McDonald's sound especially appealing Sunday after church? Once you've figured out your weak times, get the psych factor working for you. All it took to break our Sunday noon McDonald's habit was a bit of planning. Now I have my own burgers and home fries ready for the grill on Sunday after church. The meal is a no-brainer now – my hubby grills!—and it's cheaper and better tasting than fast food.
Once a month cooking is a wonderful psych! One or two marathon days a month will reward you with money and time savings all month long. In months when OAMC feels like too much for me, I make sure to at least prepare my meat ahead. With a baggie of cubed ham plus a few cups of leftover rice, I can have a yummy fried rice dinner on the table 10 minutes after I walk in the door. I'd spend that much time waiting in line for deli food!
When I prepare meat, I usually start with ground beef: 10 pounds in crumbles, cooked with onion and garlic, and frozen in 2-cup portions. The rest I shape into a couple meatloaves and a bunch of meatballs to go in the freezer in meal sized portions. Next comes chicken: several whole chickens, or a bunch of legs and thighs in the crock pot, cooked all day. Once those are cooked through, my kids and I will pick the meat off the bones and freeze chicken in meal sized portions.
Having my meat already prepared, ready to go into enchiladas or pot pie or stir fry, makes it much more likely that even on a busy night, I'll be able to think of some meal that I have energy to cook. That translates to more money in my wallet, which in the long run allows my family more choice in the way we spend our money—a very good thing.
— Mary Ostyn is the author of Family Feasts for $75 a Week. She is the mother of 10 kids and blogs at Owlhaven.
How do you psych yourself up to cook at home rather than getting takeout?