Family Fun: 6 Classic Flicks
We are a participant in the Amazon Services LLC Associates Program, an affiliate advertising program designed to provide a means for us to earn fees by linking to Amazon.com and affiliated sites. We participate in other affiliate programs as well. For more details, please see our disclosure policy.
Since we don't watch TV, except for football and Food Network, a main form of entertainment at our house is movie-watching. It's rare that we go to the cinema, but we love videos. We usually check them out for free from the library, pop a few bowls of popcorn, and snuggle up on the couches for movie night.
Recently, we saw Mary Poppins for the first time in quite awhile. Some of my younger kids had no recollection of the movie, so it was fun to see their eyes light up at her amazing feats. I remember the first time I saw it, back in the pre-video days when Disney would rerelease films at the theatre. Auntie Mary and Auntie Suzy took us three girls to the show, a rare event, while my mom packed our stuff for our first airplane vacation. I was seven. (And, no, it was not the movie's first release, thank you very much! I'm not that "classic.")
Generally, classic movies have proved to be a great diversion for our family. They are usually "clean" films that we can all enjoy. They may be a little corny or feature primitive special effects, but I think that's part of their charm. They have staying power so that they're still made available on DVD, but you can also pick up older, used video editions for a small price.
Here are six of our favorites: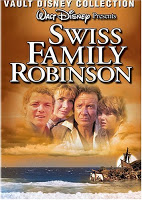 To read the novel would take a year, so you're much better off with Disney's version of Swiss Family Robinson. Yes, they took some creative license, but that's okay. This is a detailed story to say the least. All the essentials are there, though, from the shipwreck to the deluxe treehouse to the cave hideaway to the defeat of the pirates. There's a lovestory thrown in for the benefit of the ladies and plenty of ammunition to get the guys' blood racing.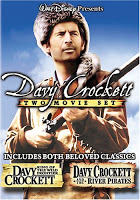 My boys have loved the Davy Crockett movies since they were "knee high to a grasshopper." A complete sensation in the 50s, Fess Parker made the character (and the coonskin hat) famous, though his acting is pretty corny to say the least. My oldest two constantly reenacted Davy and Georgie when they were younger, complete with racoon caps and muskets; one was even called, "Old Betsy." These films hold a special place in our hearts. And the young adventurers in your family will enjoy them as well.
As I mentioned earlier, Mary Poppins is a delight to the young child. If only we really could clean up our toys with a snap of the fingers. The music is wonderful, the dance routines so fun to watch, and the animation segment was considered unsurpassed for its time. And of course, Julie Andrews and Dick Van Dyke are just superb.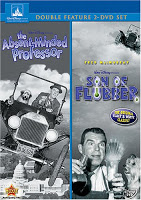 The slapstick in the Ed McMurray classic, The Absent-Minded Professor and its subsequent sequel, Son of Flubber, is just too funny. I love watching my kids' faces when they watch this. They practically roll on the floor with laughter. Don't be fooled; the more recent remake is just a ripoff version. I vote for the old school anyday.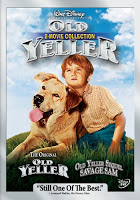 Though not as good as the book itself (what film ever was?), the film version of Old Yeller makes for a great family night. You will recognize the actors as "regulars" with Disney Studios back in the day. And you may just want to serve cornbread and milk to make it a Wild West theme night.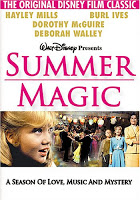 I confess, my boys have never seen Summer Magic. But my sisters and I watched this hundreds of times when we were growing up. It's definitely falls into the "chick flick" category. This is a fun, musical story, starring Haley Mills. (I always wanted to be Haley Mills.) Anyway, it's a great tale of a family that hits on hard times after Father dies, but finds a way to make the most of their situation. Plus, there's one or two love stories thrown in for good measure. The book, Mother Carey's Chickens is even better, though.
What's your favorite family-friendly, classic film?