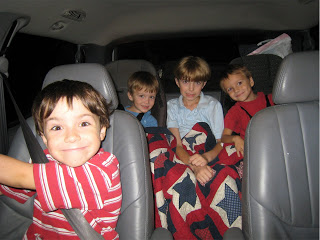 One of the simplest games that we play involves no pieces, no small chokable parts. It is highly portable and can be played anywhere, though we usually play it at restaurants and on car rides.
It's 20 Questions: the Movie Version.
The rules are simple. It has to be a movie that the Mama has seen, none of this Pokemon funny business. But, since I'm usually the one to initiate play, I tend to hog control of the game anyway. (It keeps down the squabbling over whose turn it is.)
It starts out with "I'm thinking of a movie."
The children follow up with questions like:
Is it animated or not?
Do we own it?
If we own it, is it on DVD or video?
Are there animals in the movie?
Do the animals talk?
Is the movie in China? Africa? America?
We have great fun, particularly when I answer questions in an ambiguous fashion. For instance they might ask if an animal walks on two legs and I'll say, "At least." (Because even a cat walks on two legs – along with the other two.)
It's great game because it keeps them thinking of details and reasoning through my answers. They dredge up details that I never even noticed.
You don't have to play it with movies. You could focus on famous people, books, Bible stories, whatever you want. Just try to make it be a topic that everyone in the family has a reasonable understanding of so that all can play. It gets everyone talking and interacting which is so much better than staring off into space or playing a video game. And we usually have quite a few laughs in the process. It makes the time pass more quickly as well.
What's a fun game that your family plays?