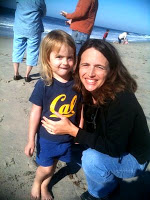 Years and years ago, like six kids ago, I used to get my hair done at a very froofy salon in Santa Barbara. Back then I paid about $45 every six weeks or so to get coiffed and primped. We lived in an affluent community and we were dinks, so why not?
Then we moved to one income, and FishPapa and I realized that we probably didn't need to spend our money on expensive beauty services. I started cutting his hair myself. I still got to go to a salon, but it was definitely a less froofy establishment. But, I really haven't missed it. Well, at least not too much.
In fact, over the years SuperCuts and I have become good friends. And Great Clips has filled the bill when SuperCuts couldn't. Recently, however, I was given the opportunity to try out Fantastic Sam's.

Like SuperCuts and Great Clips, Fantastic Sam's is a walk-in salon. You don't need to have an appointment in order to have your hair cut or styled. Last week I was desperately due for a trim. It had been several months since I'd been in and I was feeling the frump. My big boys were, too. Not the frump necessarily, but we couldn't see the whites of their eyes anymore, their hair was so long.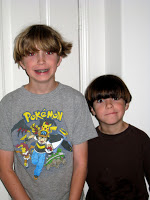 In the past I've always cut my kids' hair. But, FishBoy12 is growing in independence and was really not liking his mama to orchestrate his grooming. Broaching the topic of a hair cut has not been the most fun. So, since I was going to go to the salon anyway, FishPapa suggested that I take the boys. Maybe FishBoy12 wouldn't buck a stranger's influence as much as he does mine. FishBoy9 came along, too.
But, I have to tell you, I wasn't looking forward to paying for their hair cuts. And I was a little tempted to lie about FishBoy's age when I found out 12 year-olds count as adults. But I didn't!
In my area, an adult cut is $18 and a child's cut is $15. This is a little higher priced than the base services at the competitors. However, a shampoo is included in the base services whereas it is an extra charge at Great Clips and SuperCuts. This turned out to be a good thing. Unbeknownst to me, one of my boys was not able to get all the shampoo rinsed out of his hair well. He had a build-up of shampoo on his scalp that was liable to cause him a great amount of discomfort. The hair stylist was observant about this. She showed me what was going on, washed his hair with a clarifying shampoo to break down the build-up, and gave him a good scrubbing, too. I was very thankful for her attention to detail as there would have been no way for me to know this, especially as we're experiencing "grooming challenges" in the tween years.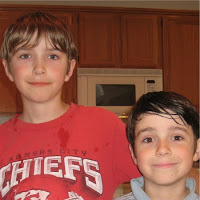 Both boys like to wear their hair longer. However, all I know to do is a bowl cut, so I figured a trip to the salon might be a good thing for their fashion sense. Turns out the stylist didn't even know how to do a bowl cut! Guess I am really behind the times…. Instead, she gave them updated cuts that a lot of the boys are sporting these days. We can see their handsome faces, and they are both happy with their haircuts.
As for me, I got a new 'do, too. Every once in awhile I get bored of long hair and have it chopped. This was the time. I had searched the internet for styles that I liked. The stylist who worked with me listened carefully to my hair issues (cowlick, extra thick locks, etc.) She helped me find something that "would do something" for me and gave me instructions as to how to style it and retrain that pesky cowlick. It is a layered bob with a sidebang, in case you're wondering. It's a great "wash and go" style and I'm quite pleased with it.
Overall, we had a great experience. While my haircut was complimentary, I did spend $33 + tip on the boys. I am not sure if we will make this a regular expense for our family. The jury is still out on that one. I'll tell you next time they get shaggy.
But, I was quite impressed with the service we received. The salon was not the fanciest, but it was clean and well-designed. The staff was friendly and knowledgeable. And as first time customers we were given welcome packets that contained money-saving coupons for future visits. You know me and coupons, that would certainly bode well for a return visit. How 'bout you? Where do you get your 'do?
Check out Fantastic Sam's website to find a location near you and be a fan on Facebook to get the lastest news.
Want to give Fantastic Sam's a try? I have a $25 gift certificate to give away this week.
There are three ways to enter:
1. Leave a comment about your experiences with walk-in salons.
2. Follow me on twitter and leave a 2nd comment telling me that you did.
3. Subscribe to LifeasMOM in a reader and leave a 3rd comment, telling me you did so.
Giveaway is open until Sunday, December 6 at 8 pm, PST.
Disclosure: I received a gift certificate for Fantastic Sam's so that I could review their services and share my opinions with my readers. My opinions are my own and are not influenced by a complimentary haircut. C'mon!
Encouraged by what you've read? Subscribe to LifeasMOM by email or in a reader and join me on the Road to Joyful Motherhood.