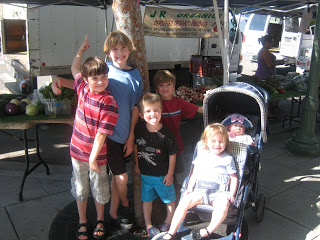 Visiting Farmers' Market is something that our family has done for almost fifteen years now in two countries and four different cities. Nowadays, it's more about the experience than it is about the good deals. Usually, we find some fun snacks and go home with a few goodies.
The kids and I went to a local market this week on an outing. Since I wasn't doing any major shopping this week, I allowed us a $20 budget to splurge. It didn't go quite as far as I had hoped, but we had a good time.
We snacked on free samples of oranges, strawberries, and avocados and even tried a funnel cake. Yum. While we ate our treats, FishChick ate her hat. So everyone was happy.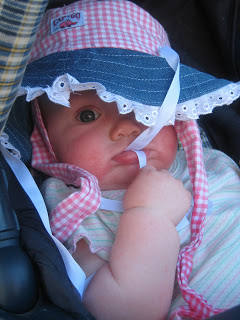 We got a mixed bag when it comes to produce and deals. The avocados were beautiful and only $.33 each! The artichokes were 2/$1. The limes were 5/$1 and the funnel cake was a whopping five bucks.
The strawberries? Well, $6 was the going rate. I bought one at that price and I must say, "WOW!" 'Twas the best strawberry of the season. However, I also picked up a 3-pack of "cosmetically challenged" berries for $4. They were, unfortunately, flavor challenged as well. They tasted awful! But, the kids had a blast and commented on how fun the experience was. So, in my book, that's a fine thing!
(The photo is not completely accurate of our purchases as we ate quite a few berries between the market and home.)
Visit Finer Things Friday for more, well, fine things!