Fatherhood: A Tough Bill to Fill
As an Amazon Associate I earn from qualifying purchases. For more details, please see our disclosure policy.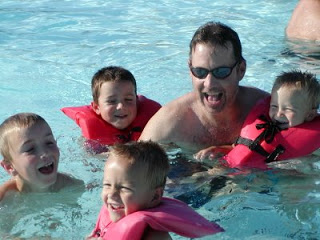 Being a dad is a hard job. Yes, I know, momming is challenging, too. But, as I get older, God is giving me eyes to see my husband in light of the unique challenges he faces. It's not all about me.
Since ours is a one-income home, the responsibility of providing for our physical needs can weigh heavy at times. While I know his confidence grew when we made that financial move, and he does a fantastic job as a provider, the very idea of six children to feed, clothe, and care for can still seem rather daunting at times. Household expenses could go through the roof if we were not careful. And things will happen.
Cars will breakdown. Appliances will go kaput. Bugs will invade my territory. He is my Mr. Fix-It, and therefore, is called upon many times a day to fix the broken, whether it is an automobile, my garbage disposal, or my flagging spirits. I am blessed to say that he is my Knight in Shining Armor.
Yet, if making money and fixing things was all he did, it might be a breeze compared to the other opportunities at his feet. He loves to be with us! He loves to play with his sons and his "baby girl." And so, there are those dueling options: work and family. He'd much rather spend time with his family than work on a blueprint during the evening hours. He does them both extremely well, but I know it can be challenging to balance the two.
And so, I've been trying to think of ways to thank him and encourage him. I have lots of "plates to spin" and so does he. And while I want him to know I appreciate him every day, I also want to make Sunday be a special day to honor him.
Here are some ideas that I've tossed around for the dads in your life and mine.
* Create a shaving/toiletries kit. Fill a new tackle or tool box with a new razor, shaving cream and other products. Check out these CVS deals for how to do it on the cheap.
* Consider giving him "a pass" for the afternoon. Make him a batch of homemade salsa (using canned tomatoes, thank you very much.) Hand him a bag of chips, a bowl of dip, his favorite drink, and the remote. Let him wile away the afternoon, watching baseball, NASCAR, golf, whatever. If sports aren't his game, line up a stack of his favorite movies to choose from.
* Refrain from nagging ALL DAY LONG. Whew – that may be a tough one. My one request for Mother's Day was "no dishes." Turn around is fair play. How would your hubby feel about few, if any, demands throughout the day? Plan ahead and try to anticipate what you'll need (and ask for it on Saturday! Haha!)
* Make his favorite meal. It seems that people assume a "cook out" is in order for Father's Day. Unless, he really loves to grill, plan a favorite warm weather meal that Dad doesn't need to sweat over. At our house that would be something like Italian Sub sandwiches, potato salad, grapes, and a cold drink. We'll probably top it off with Triple-Chocolate Brownie Sundaes.
* Write a Papa Appreciation List. Together with the kids, make a list of all the things that you love about Dad. We did this a few years ago and wrote them on a long sheet of craft paper. I hung it from the ceiling and it reached the floor. Some of the kids' statements included,
He makes us into pizzas. (Read the children's book, Pete's a Pizza.)
He does "Runaway Horse," "Runaway Pickup", "Runaway Trashtruck", and "Runaway Tonton." (the boys ride on his back, he's on his knees, he dumps them on the couch and runs away.)
We sometimes get sodas at Lowe's.
He cuddles with us.
Here are some related links to consider as well:
Family Fun's Father's Day Ideas
Father's day crafts from Kaboose
Father's Day Food Ideas from Better Homes and Gardens
Got another idea? Share it with the rest of us in the comments section.