Father's Day Gift Idea: 8 Steps to a Pain-Free Back
As an Amazon Associate I earn from qualifying purchases. For more details, please see our disclosure policy.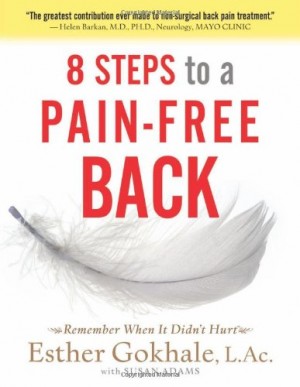 About four years ago my husband was diagnosed with a bulging disk. I was pregnant with FishChick at the time, and it was a scary time watching him practically paralysed with pain.
Thankfully, treatment, time, and exercise put him back in the swing of things. And he's had a respite from debilitating pain for about three and a half years.
Until now. For some reason the pain is back, exacerbated by some odd thing, we don't know what.
So when the book, 8 Steps to a Pain-Free Back, came across my desk, we both thought it was worth checking out.
Esther Gokhale has created a series of exercises that can help to relieve back pain. These are carefully and pictorially explained in the book. In fact, as books are concerned, the photos and quality of printing are above the norm.
Additionally, the book explains how we in the West suffer more back pain than those living in other countries. Part of this is due to posture, lifting, and the ways that we bend. She points out alternatives and suggests reasons why this will improve your back health.
Obviously, neither of us are doctors, so we can't vouch for any medical claims in or about the book. While FishPapa's back pain has lessened since starting the exercises, it is by no means gone. And it would be hard to determine whether it's time, different daily activity or these specific exercises that are bringing him some relief.
That said, 8 Steps to a Pain-Free Back is worth a look if you or someone you love experiences back pain. And it could be a great father's day gift for the right guy.
Disclosure: I received a review copy of this book. I was not compensated for reviewing it. My opinions are my own. Please see my full disclosure policy for more details.