Father's Day Gifts that Show Love & Respect
We are a participant in the Amazon Services LLC Associates Program, an affiliate advertising program designed to provide a means for us to earn fees by linking to Amazon.com and affiliated sites. We participate in other affiliate programs as well. For more details, please see our disclosure policy.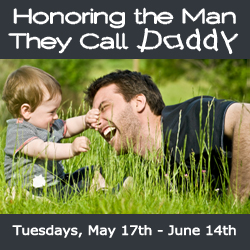 Over the coming weeks I'm delving into a series on honoring the men we know as fathers. It could be your husband, your dad, your brother, or some other man who acts as a father in the lives of the people you love. And I'm not covering the topic alone. Mandi, JessieLeigh, Amy, and Tara are all chiming in on the topic as well.
This week we talked about Father's Day Gifts that show love and respect. And since the way to a man's heart is through his stomach, I, of course, tackled the edible portion of our gift giving. Read my suggestions for fun, foodie Father's Day gifts over on Good Cheap Eats.
And don't forget to read what beautiful gifts the other ladies have suggested. They won't cost you a penny, but they'll bless the fathers in your life.
Be sure to hop around and be inspired:
What kind of gift would the father in your life love to receive?