This week on Ultimate Recipe Swap we're sharing recipes that work well in the slow cooker. When I do big freezer cooking days, I almost always have one or more crockpots cooking away on the counter while I do work on other things.
One of my favorite items is Shredded Beef Filling. It's a great all-purpose filling that can be added to a number of dishes, like tacos, tostadas, and BBQ Sandwiches. Recently I made a big batch, using three chuck roasts and two slow cookers. After the meat cooked enough to just fall apart in shreds, I froze two pounds of meat for sandwiches and I doctored up the rest.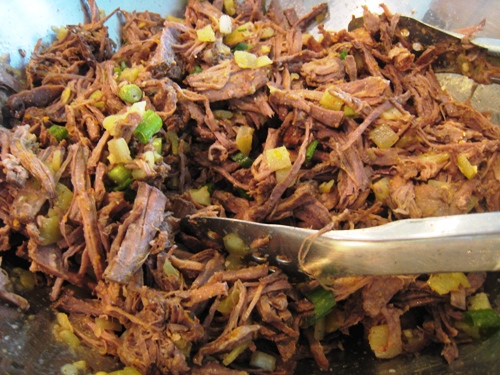 I added chopped green onion, a can of green chiles, and salt and pepper to taste. Yum! Then I made a few batches of taquitos (recipe forthcoming) and several batches of Beef Enchiladas.
You wouldn't think that a crockpot had a hand in this, would you?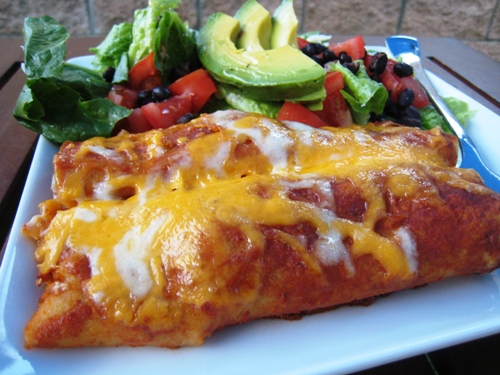 But it did!
While I obviously baked the rolled enchiladas in a baking dish, the crockpot did most of the work. And if I had really wanted to give my slowcooker a work out, I could have cooked the enchiladas in the crockpot as well.

Curious about freezer cooking? Consider purchasing my cookbook, Not Your Mother's Make-Ahead and Freeze Cookbook from Amazon, Barnes and Noble, or your local bookstore. It's chock full with over 200 freezer-friendly recipes, planning pages, shopping lists, cooking plans, and basic and advanced how-to's to making freezer cooking work for any home, family, and lifestyle.
Got a great slow cooker recipe to share?
1. Post your recipe on your blog. Please mention www.LifeasMOM.com in your post. Then, come back here to add your link to Mr. Linky below. (Instructions for Mr. Linky are available.)
OR
2. If you don't have a blog, simply tell us about your recipe in the comments section.