Freezer cooking, or bulk cooking, can be a great way to economize on time, money, and resources. And the kids can help cook!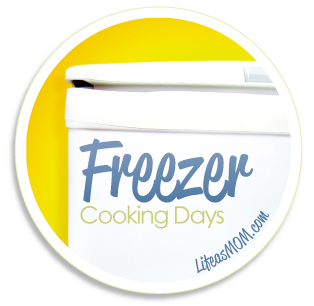 As I mentioned last week, I'm on a mission to make my boys a little more independent in the kitchen. So, it only made sense to include them in the freezer cooking this month. Heaven help me!
Instead of asking each guy what he wanted to make, I let them choose from a variety of cooking plans that I created for The Cookbook (coming later this year). I figured this was an easier way to choose meals as well as have the grocery list and cooking plan already to go.
Providentially, the plan that they chose, the one with the most meat, of course, also featured cuts of meats that were on sale this week at my local stores. Yeah! Shopping, however, involved trips to three four different stores. In recent years it's not been unusual for me to shop at six different stores in a week, but lately, I've not been that crazy in my shopping. This freezer cooking gig required me to stretch a bit.
Note: I could have shopped at probably just one or two, but I would have spent a lot more money. As it is, I believe my grocery total for these meals hovered around $200.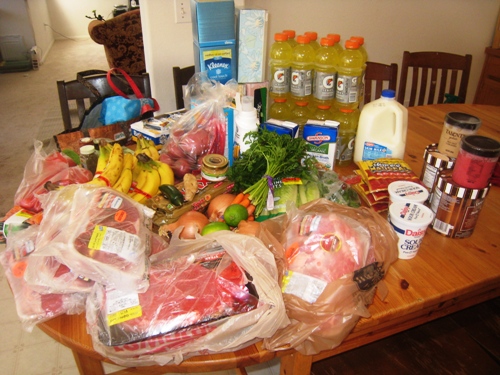 some freezer meal groceries + extras
(Peek in at Good Cheap Eats tomorrow to see how that shopping broke down and what a month's worth of dinners looks like in groceries as well as dollars and cents.)
Here's the cooking plan as it looked before we started cooking:
Sorry, no links for most of these. I guess you'll have to wait to buy The Cookbook. 😉
Seasoned Steak with Gorgonzola-Herb Butter
Mexican Beef Tortas
Spicy Shrimp and Tomatoes
Tortilla Soup with Shrimp
Fish Chowder with Red Potatoes and Corn
Quick and Spicy Marinara Sauce
Jamie's Spice Mix
Teriyaki Chicken Skewers
Herb Butter Chicken Tenders
Caribbean Pork Tenderloin
Herb-Crusted Pork Roast
Soy-Ginger Pork Tenderloin
Cozy Cheese and Potato Casserole
Preorders should start in a month or so. Wait for it….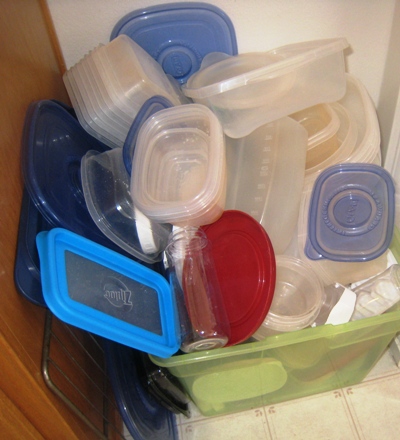 I gathered all my plastic ware. The Glad plastic boxes and Pyrex or Ziploc glass dishes with plastic lids are my favorites.
I also decided to jot down notes from each day to see how it all worked out, freezer cooking with kids — or how it didn't.
Thoughts the night before:

Quite honestly, I'm not sure how this will go. I'm hoping that I can assign big boys to different prep tasks and go back and forth from their stations, offering advice and helping. But, the three littles may either help or hinder this process. It's anybody's game.

In the past, I've told the boys they were "helping" me, but then that didn't really happen. So, I'm a little skeptical that this will work. I still have some shopping to do in the morning and then a fairly ambitious list to work through.

And there's always the risk that someone will make a mistake and we'll have a bulk batch of Oops! But, then again, I've been known to do that on my own — without any help.

It should be interesting.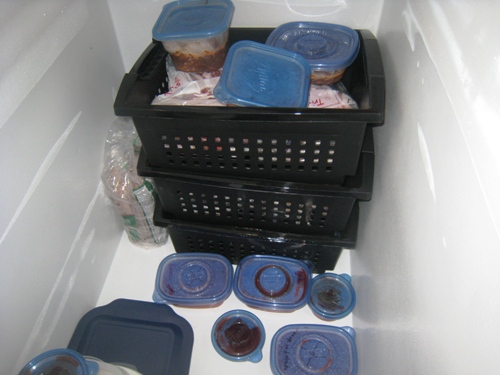 And here's how it panned out.
Successes on cooking day:
Be my own prep chef – One of the keys to a productive batch cooking day is to do all the prep work in advance. I often neglect to do that, I'm so eager to get cooking. But, this time I made a point to prep everything before I started assembling the meals. This entailed chopping vegetables, cooking potatoes, and grating cheese and lime zest. The result really streamlined the experience. The meals came together super quickly that I surprised even myself, creating 25+ meals in about 5 hours.
Tasty recipes – Our house was filled with good scents all day long. And everything we tasted was delicious! I did veer a little from my original plan, subbing in a pulled pork recipe for the Soy-Ginger Tenderloin and making a chili instead of the Tortilla Soup. Many of these are fairly low maintenance to pull together: marinated meats, soups, slow cooker meals. It's all a matter of coordinating the different tools in your kitchen.
Cooperative children – My boys were (mostly) great about their kitchen experience. One particular person dragged his feet a little bit, that one who likes to push buttons, so really his behavior was par for the course. He warmed up pretty quickly, though, since he wants to be a chef someday.
I asked each of the bigger boys (14, 11, and 9) to choose two recipes to prepare. Then when I got to one dude's recipe in the cooking plan's order, I called him over to walk him through the recipe. It was pretty much a private cooking lesson at that point as I explained what was supposed to happen and what he needed to watch for, add, etc. I tried to let them do the work, with me supervising.
Lots of (labeled) meals for February – We were able to make everything on the list in about 5 to 6 hours, resulting in over 25 meals for the coming month. I also made a point to label everything. The pantry challenge showed me some of my recent laziness. No more mysteries!

What I would do differently:
Communicate my goals to the kids – Things didn't go exactly as I planned. I think I envisioned a little more enthusiasm on the part of my kids. But, since I didn't explain that to them ahead of time, they had no idea that I really wanted them to embrace the experience. Everyone did what was asked of him. But, no one went overboard. hehe.
Multi-task more – Next time, I'll multi-task a little more, getting more than one child going on his task at a time and then "hopefully" roam the kitchen, helping and advising. I definitely could have had more than one cook in the kitchen.
Well, we'll see next time.
Related Reading:
Here are some of my favorite posts that will help you get started in Freezer Cooking:
How did freezer cooking go for you?