Meal Planning: February Meal Plan
We are a participant in the Amazon Services LLC Associates Program, an affiliate advertising program designed to provide a means for us to earn fees by linking to Amazon.com and affiliated sites. We participate in other affiliate programs as well. For more details, please see our disclosure policy.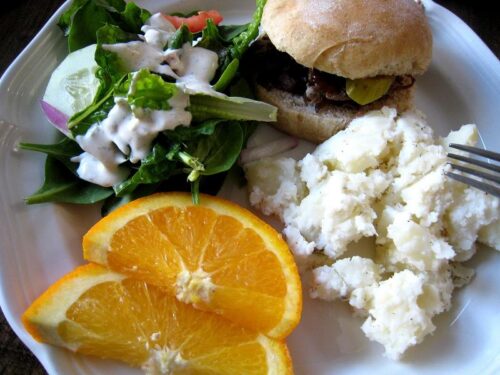 Now that my freezer holds the makings of several weeks of meals, it's time to figure out how they fit into real life. I've found that it is helpful to make up a meal plan for the whole month. It's always subject to change, but it seems that I get a better idea of what we have and how we can best use it if I look at the month as a whole.
Chicken Taco Salad (marinated chicken from freezer)
Jambalaya, Spinach Salad, Biscuits
Beans and Rice (cooked beans in freezer)
Costco Pizza (FishMama's gone)
Chili and Cornbread (made and frozen last month)
Chicken Chimichangas (cooked beans in freezer)
Pasta with Red Sauce, Salad, Focaccia
Chinese Chicken Salad, Rolls (marinated chicken from freezer)
Paella with Shrimp and Chicken, Salad
Chicken Gyros (marinated chicken from freezer)
Beans and Rice (cooked beans from freezer)
Beef Chimichangas (cooked beef in freezer)
Chicken Parmesan, Pasta, Broccoli, Biscuits
Carnitas Soft Tacos (marinated pork in freezer)
Baked Chicken, Wild Rice, Salad, Cornbread (marinated chicken in freezer)
Stuffed Shells, Salad, Focaccia (sauce and meat in freezer)
Peanut Butter Chicken, Rolls
BBQ Sandwiches, Veggies and Dip
Pasta with Red Sauce, Salad, Rolls
Beef Gyros, Couscous Salad
Chicken Tacos, Rice and Beans
Minestrone, Focaccia
Chicken Enchiladas, Rice, Beans
Steak and Taters, Green Salad
What's cooking at your house this month?
I'm an Organizing Junkie rounds up hundreds of meal plans each week. If you haven't checked it out, you'll be amazed to find great menu planning inspiration.