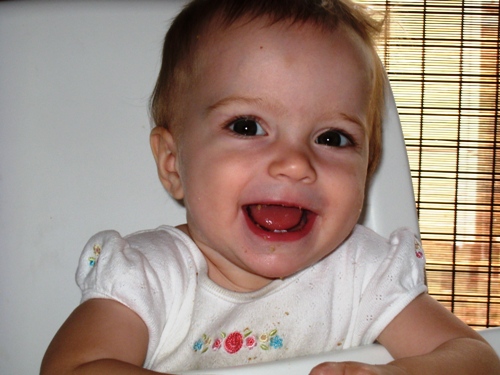 There is no shortage of ways and methods to feed your baby. Solids at three months? Solids at six months? One food at a time? Breast or bottle?
Having now seen six children from birth to toddlerhood, I've tested out several methods. What I've learned is that what works for one kid doesn't necessarily work for the next kid.
My favorite baby feeding method has been to feed them what we were eating. This was the recommendation of our first pediatrician who told us to feed the baby salsa. Some of our babies just loved to eat from the table whatever was being served. And it was so easy!
But, sometimes, what was being served was not appropriate for babies. It might contain honey or nuts, or in the case of salads, be a food that wasn't really easy for a baby to swallow. In those instances, it was always nice to have a back up plan.
Feeding Solids
I didn't usually fill my cart full of baby food, but I usually kept several jars on hand just in case. And once they were toddlers, having some of those easy baby snacks in the pantry or the diaper bag was always super helpful. As the budget allowed, I tried to give my babies a good head start by feeding them organic foods wherever possible.
While my children are now beyond rice cereal and pureed foods, I still have a toddler in our midst. Last week she taste tested some toddler foods, compliments of Happy Baby. FishBaby FishChick2 devoured the cute, pint-sized snacks. She loved the taste; I loved it that the ingredients are organic and full of good stuff like yogurt and spinach!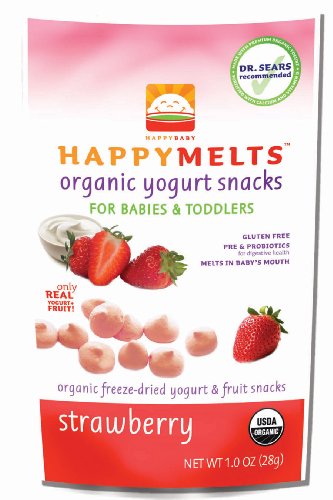 The HappyMelts were really interesting. They're little kiss-shaped dollops of yogurt that are dehydrated. They just melt in the mouth. The Happy Baby Puffs were also a big hit — with many of the children. And the younger sister ate all the green vegetable flavored ones herself. She refused to share.
Kid tested, FishMama approved.
This week five winners will each receive the following, compliments of Happy Baby:
To Enter:
Pick one, pick 'em all. You choose.
1. Leave a comment, telling us your favorite mode of feeding solids to babies.
2. Follow FishMama and Happy Baby Food on twitter. Then tweet this giveaway, such as "It's Baby Week at LifeasMOM! Enter this giveaway from @FishMama and @HappyBabyFood: http://wp.me/pLlgS-2Rr" Then, leave a second comment, telling us you did so.
3. "Like" LifeasMom and Happy Baby Food on Facebook. Then come back and leave another comment, telling us you did so.
Giveaway will be open until Sunday, October 31 at 8 pm, PST. Winner will be chosen at random and notified via email. Please respond within 48 hours to claim your prize.
Congratulations to qsahns93@, rebekahstefaniuk@, makjell@, torigreene@, rsjrocks@!
Disclosure: Happy Baby Food is providing these prizes. I was not compensated to post positive comments. For more information, see my disclosure policy.
:: Check out more Baby Love all week long.