Go to the ant, you sluggard; consider its ways and be wise. — Proverbs 6:6
I've had lots of opportunity to meditate on that Scripture over the last month. With the dry weather we had in late August and early September, our home was virtually overrun by ants. I'm not talking a trail or two. I'm talking multiple trails in every room in the house! No place was safe.
I had plenty of chances to study the ways of the ant. And let me tell you, words like relentless, tenacious, everpresent, and unwilling to surrender definitely came to mind.
I was thankful that I had a review set of EcoSmart organic pesticides just waiting for the occasion. And, boy, did we give those ants a run for their money.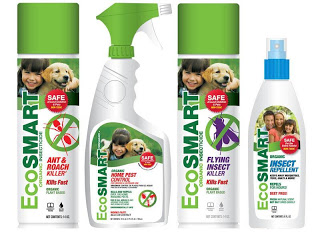 EcoSmart produces an entire line of organic insect repellants and bug sprays that are made from all-natural ingredients. They are made of things like rosemary, cinnamon, and peppermint oils. Not only can you go to war against bugs, but you can do it with a bubblegum scent!
I am pleased to report that the ant spray is extremely effective. We had no problem stopping them in their tracks. And I felt good about spraying the product indoors, knowing that its safe around children and pets, per the company's claims. Check out the EcoSmart Blog for info about organic pesticides.
This week EcoSmart is offering three winners a value bundle each. Winners choose which one. Check out the value bundles that include natural insect repellent.
How to enter this giveaway?
1. Leave a comment here on this post and explain your favorite ant-fighting technique.
2. For another entry, leave a comment telling me what I am doing this week. (You can pop over to the LifeasMOM main page for help if you need it.)
3. For a third entry, tweet this giveaway and bring the link to your tweet back here.
Contest will be open until Sunday, September 27, 8 pm PST. Winner to be chosen at random and announced later next week. I hope you win!
*Disclosure: I received a complimentary Safe Home Value Bundle in order to familiarize myself with this product and to submit my first hand experience to my readers.