Make some meals ahead of time and freeze them to enjoy later. It will make school days and nights so much easier!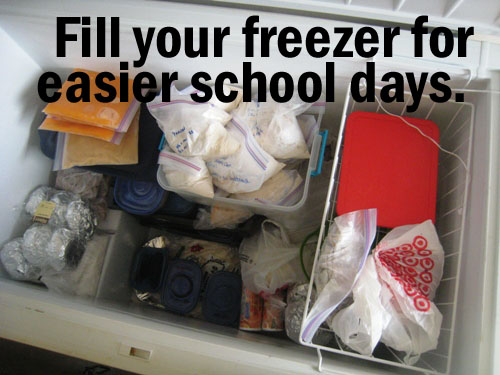 This week in a frenzy of cooking, I filled my freezer. Those who follow along on Good Cheap Eats know that we are coming off the heels of a pantry challenge. This deep freeze was empty and thawed on Sunday morning. Today it is almost full to the brim.
It was a busy week with school starting, dentist appointments, swim lessons, a trip to the movies, and I don't remember what all else. But, I made a point of cooking a little bit each day to work toward filling the freezer.
We'll eat — three times a day!
In fact, I made meals for breakfast, lunches, and dinners to make this back-to-school season go a little more smoothly. It took five days, but now we can eat!
Breakfast
The girls were SO excited to help make stuff. I really need to bottle this enthusiasm. We made pancake, waffle, and muffin mixes as well as lots of instant oatmeal packets. Head here to see how we pulled that off.
Then, one morning before anyone awoke, I made granola. It won't last long. And another day, I prepped fruit and yogurt for smoothies and made sure that our smoothie station is ready to go.
We're set for easy Breakfast Bars on school days with these recipes:
Spiced Waffles (in my cookbook)
Lunch
During a couple of my cooking sessions, I prepped things for lunches, particularly those that hubs could take with him and reheat at work. I shared the basic details on Good Cheap Eats during the week. Be sure to check those posts here, here, and here.
We've got recipes similar to these to draw from during the next few weeks:
(Head on over to Freezer Meals for Work Lunches for more ideas on what you can brown bag.)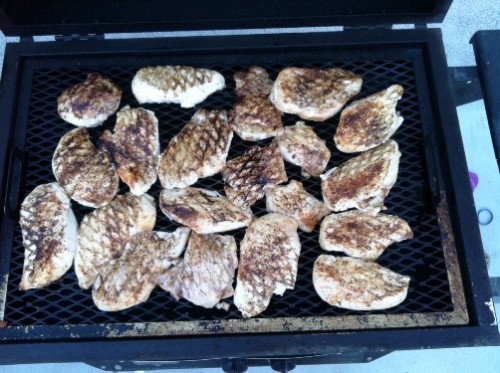 Dinner
I made several pans of Creamy Chicken Enchiladas and Chicken Divan with Cheddar Crust (from this cookbook), hamburger patties, Carnitas, and of course, bigger portions of the lunch items. I chopped a lot of this grilled chicken to add into other meals.
Dessert
Hubby and I are trying to reign in our summertime overeating, so I am trying not to make too many tempting treats. I made a big batch of cookie dough, reducing the sugar content dramatically. I baked a dozen and then froze the other five dozen's worth of dough into five packages to bake later. Less temptation, but easy baking for a quick and not-too-sweet dessert.
While we certainly don't have the entire month's meals cooked and ready, I do have several options waiting for me in the freezer to help me out on crazy school days — and nights.
Have you done any freezer cooking lately?
Tell us in the comments how your cooking session went.

Curious about freezer cooking? Consider purchasing my cookbook, Not Your Mother's Make-Ahead and Freeze Cookbook from Amazon, Barnes and Noble, or your local bookstore. It's chock full with over 200 freezer-friendly recipes, planning pages, shopping lists, cooking plans, and basic and advanced how-to's to making freezer cooking work for any home, family, and lifestyle.