THIS GIVEAWAY IS NOW CLOSED. CONGRATS TO THE WINNERS #1 MRS QUERIDO, #5 JENNIFER FROM GETTING AHEAD, #7 KAREN (klnlovesmickey), #15 TANYA. PLEASE EMAIL ME WITH YOUR MAILING ADDRESS.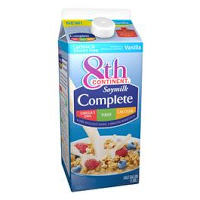 Over the last month Elizabeth Somer, registered dietician, author, and spokeswoman for Stremicks Heritage Foods and 8th Continent, has been sharing with my readers the best diet for each decade in a woman's life. Click these links read what to eat in your 20s, 30s, and 40s. (The 50s are coming next week.)
One of the superfoods Elizabeth has suggested is soy. There are a number of reported benefits to increasing your intake of soy, including protein, fiber, and calcium.*
Thanks to 8th Continent, 20 LifeasMOM readers have won cartons of free 8th Continent Complete soymilk. Complete is fortified with "Omega-3 DHA for increased brain & eye development, fiber for better digestion, and calcium for optimum bone health."
This week 4 more will win. Will it be you? Simply leave a comment on this post telling us whatever you want.
Make sure you leave an email address for me to contact you if you win. Giveaway is open until Saturday midnight, PST. Winners will be chosen at random and announced on Monday morning.
*(As with all things health related, please confer with your doctor to make sure that soy's the best dietary choice for your family.)